Hark! The happy wanderer returns! Tired and weary from all her travels but refreshed in mind and spirit. Yay.
Do you think that opening sentence might win the award for most overblown opening sentence in the history of the world? Or will that previous one, pip it at the post and win the award for most exaggerated?
Anyway I am home and I have photos from my time away.
Gulgong is an old gold rush town and is about 300 kilometres inland from Sydney. X amount of years ago Janet Mansfield, the undisputed queen of Australian Ceramics decided that she wanted a ceramics conference in her town. I have only met Janet the once and I was too overawed to say much more than hello, but from the stories that were told about her whilst I was in Gulgong I know that I would have enjoyed having a proper chat with her.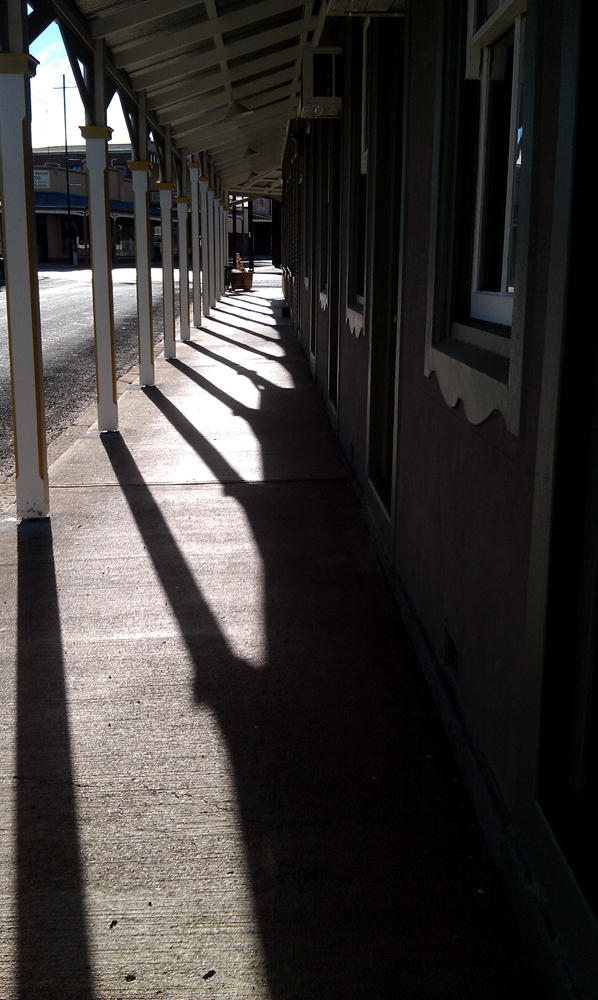 The whole town welcomes the visiting tumble of potters and there are signs outside the local shops and pubs proclaiming Potters Welcome, which is always nice to see. The country around the town is very similar to my familiar dry country here in Tassie, as is the architecture and the comfort of the distant hills made the experience less discombobulating than the spooky flatness of the canola country in South Australia.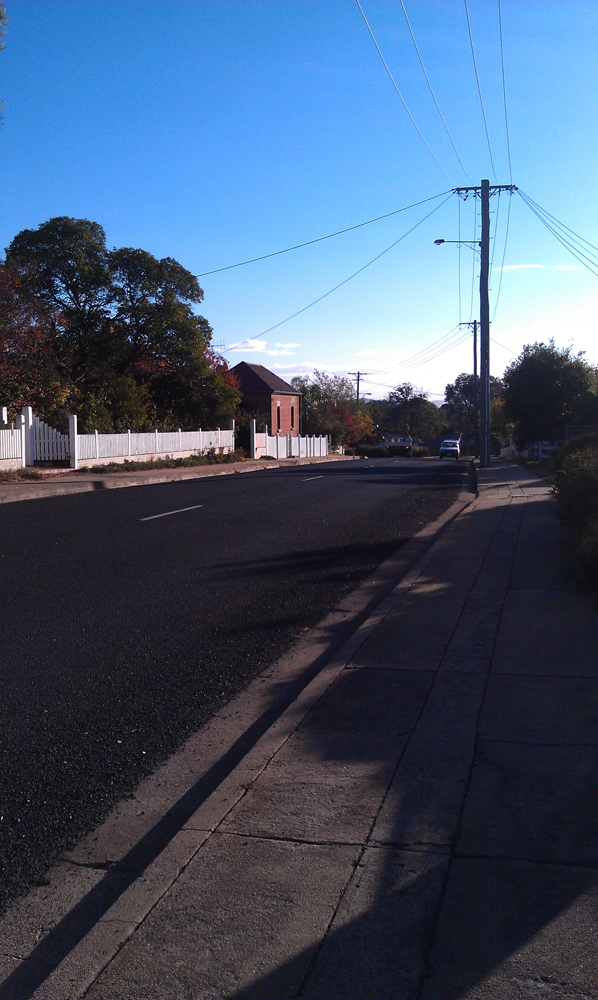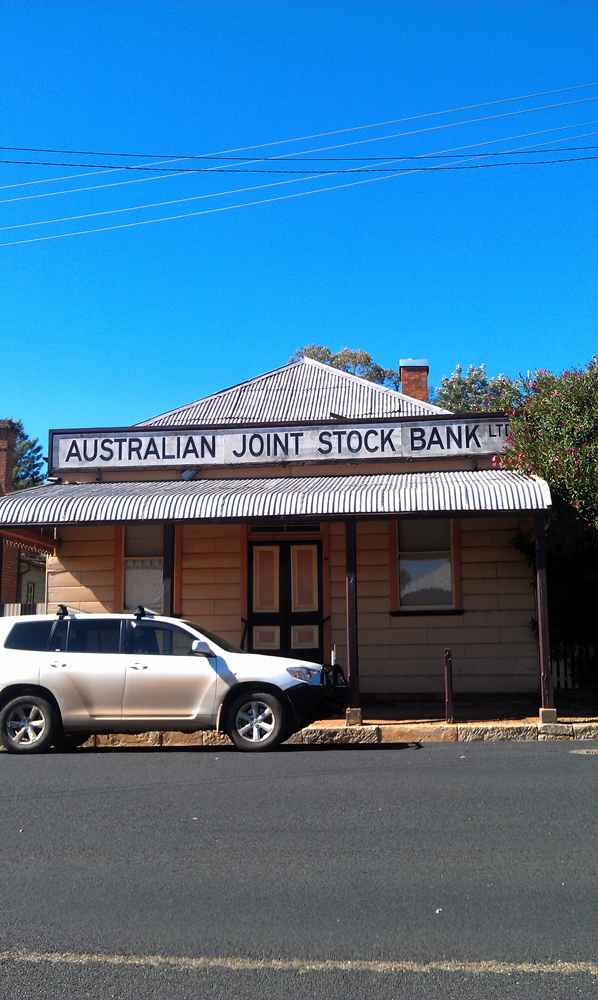 The town of Gulgong deserves a photo essay all on its own but for today I will concentrate on some of the pots and potters. Most of the action was at the Red Hill Environment Centre and there were also potters demonstrating in the classrooms, the giant marquee and the scout hall.
In the Marquee there were tables set up for delegates to sell their work.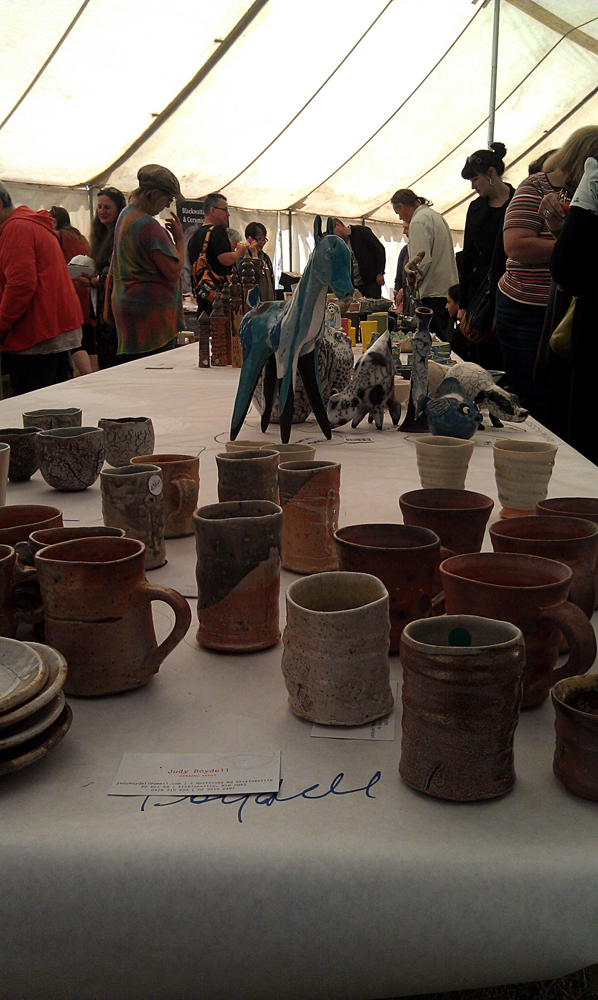 There was a strong emphasis on woodfired pots as Janet Mansfield was a woodfirer and this made me happy, as I adore all things woodfired, including food, but there were also lots of brightly coloured pots fired in electric kilns. I love these cups and regret not buying one.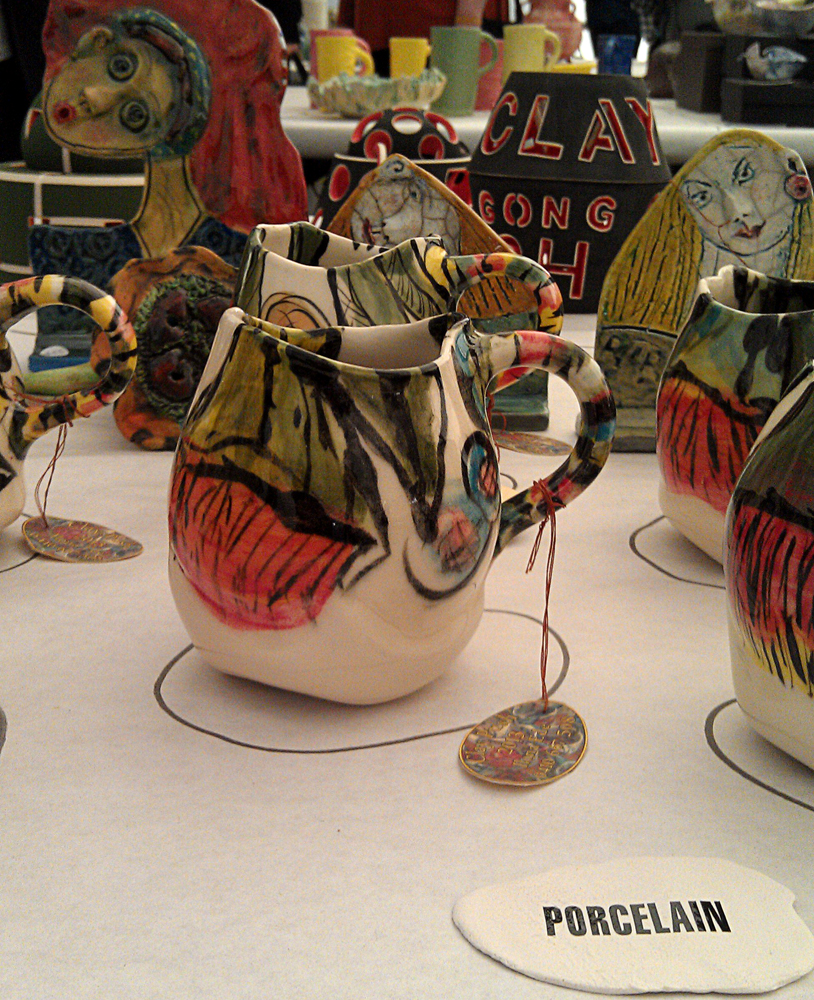 Interesting skulls next to delicate little patchwork bowls. The skulls were too heavy for my suitcase and so I just photographed them.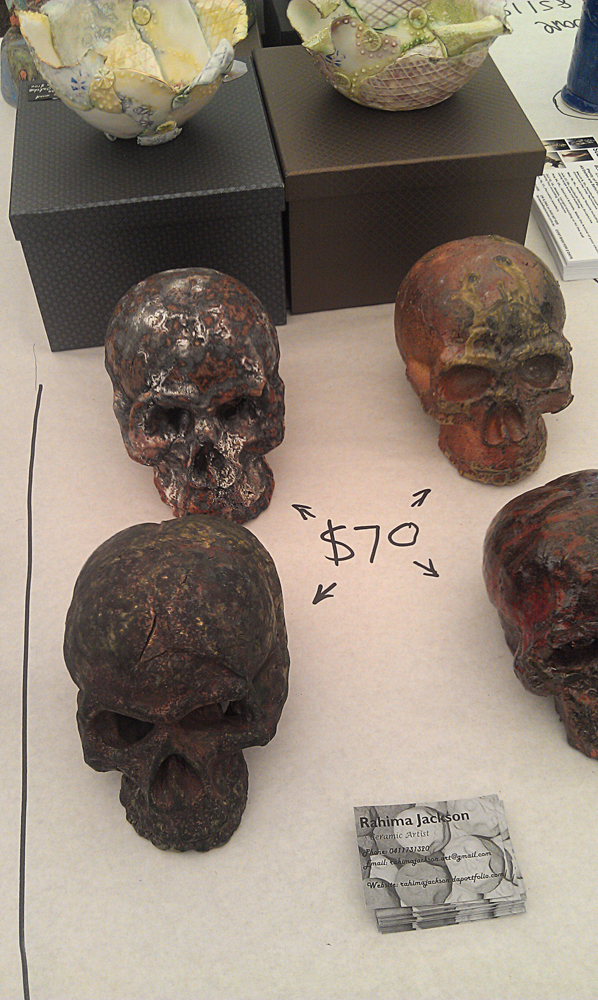 At one end of the marquee,  Frank Boyden demonstrated his throwing and painting techniques and freely shared his life's wisadom and philosophy. Frank has an alter ego called Uncle Skulky who gets Frank into a bit of trouble, Frank and I had an interesting chat about Princess Snorklepants and it was fun to compare the mischief our alter egos sometimes got us into.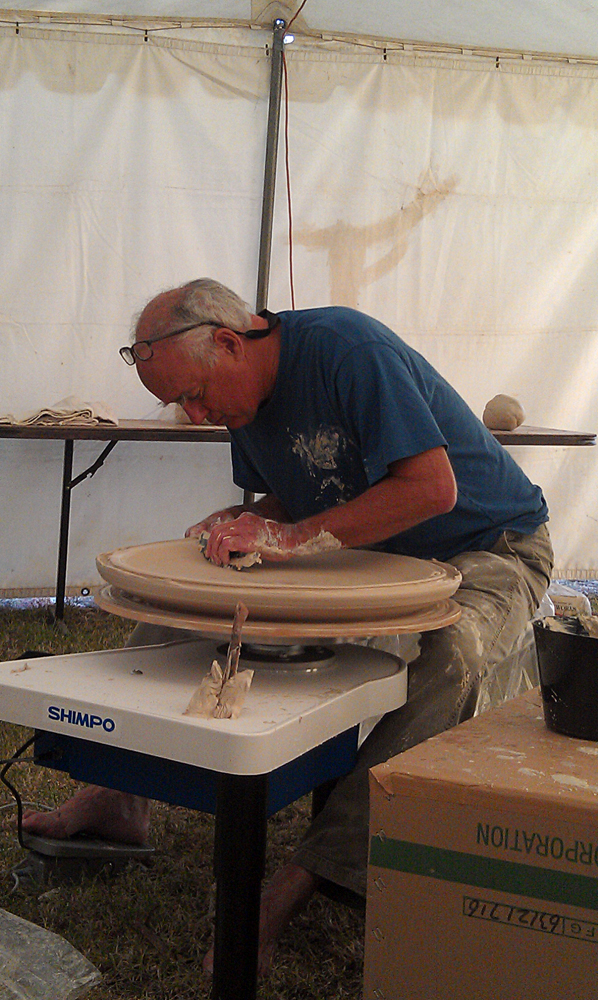 This is one of Frank Boyden's wonderful platters that was on display in the Master's Exhibition. Frank lives on the coast of Oregon and he talked a lot about the giant salmon in the rivers when he was a boy.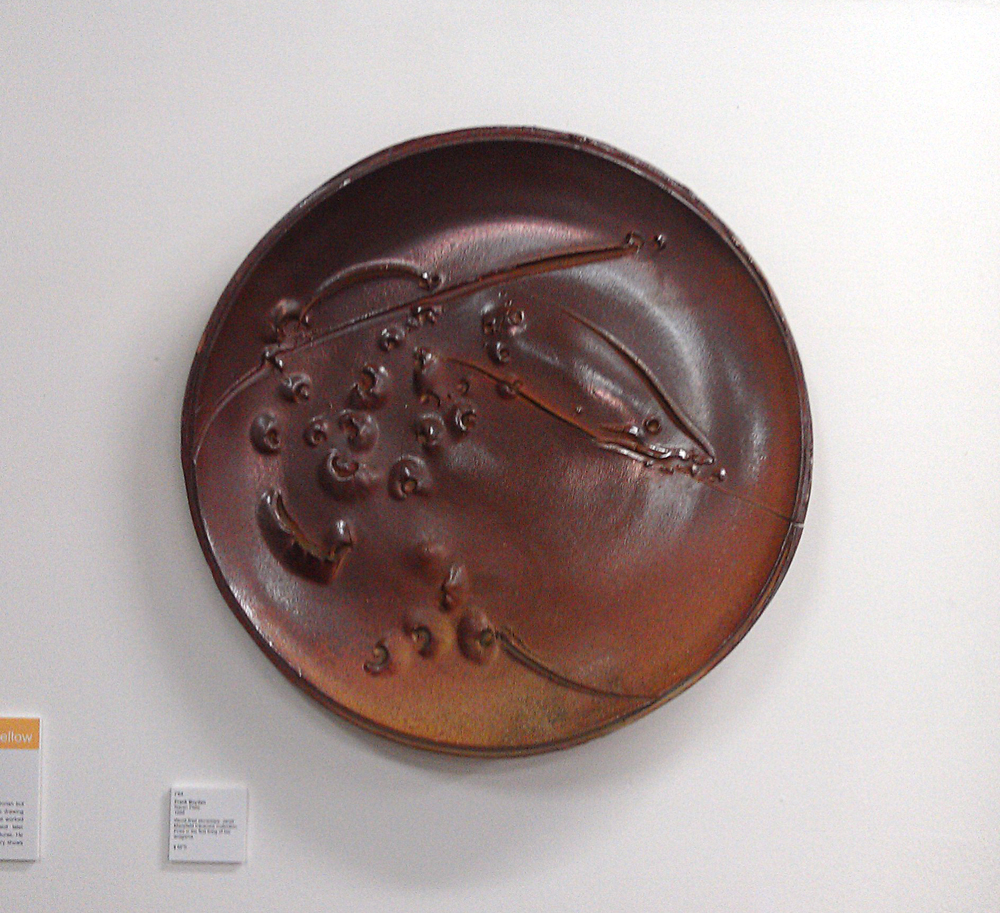 At the other end of the giant marquee was Korean Master, Lee, Kang Hyo, who along with the assistance of his daughter and a NAS student made two GIANT pots using a coil building technique. Here he is making the base of the pot, using one of Kirk Winter's lovely kick wheels.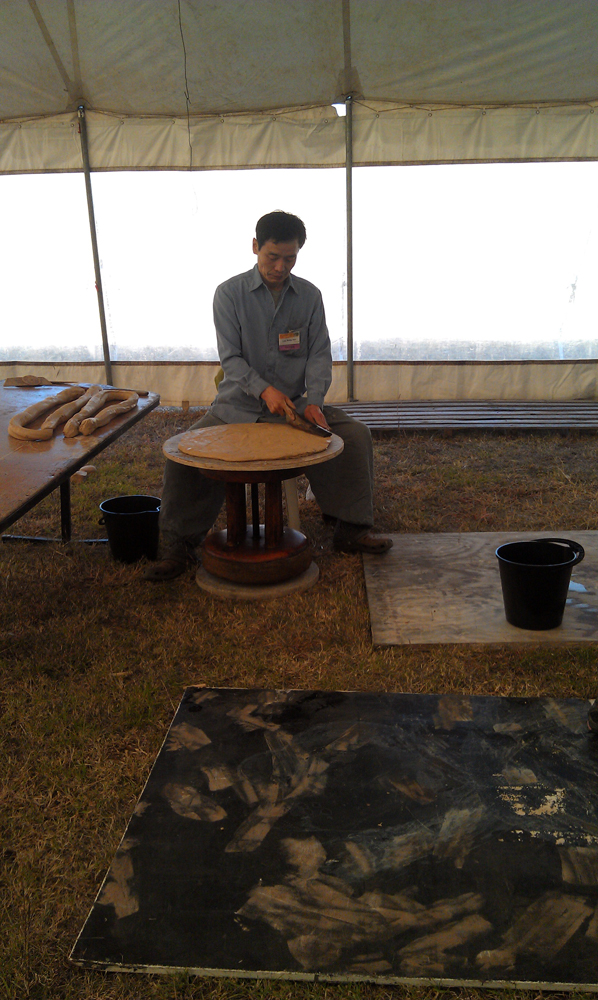 Lee Kang Hyo's daughter and the NAS student assistant made all the coils for the pot, it was interesting watching his daughter make coils using a technique very similar to stretching noodles.
There are lots of different ways to make coils, you can roll them out on the table, like a child makes play doh snakes or you can use an extruder to force out long sausages of clay.I cut long strips of clay from the block and just sort of scrinch the clay into a rough sausage shape. The Korean technique that Lee Kang Hyo's daughter  demonstrated was very gentle to the clay and I might give it a go and see what happens.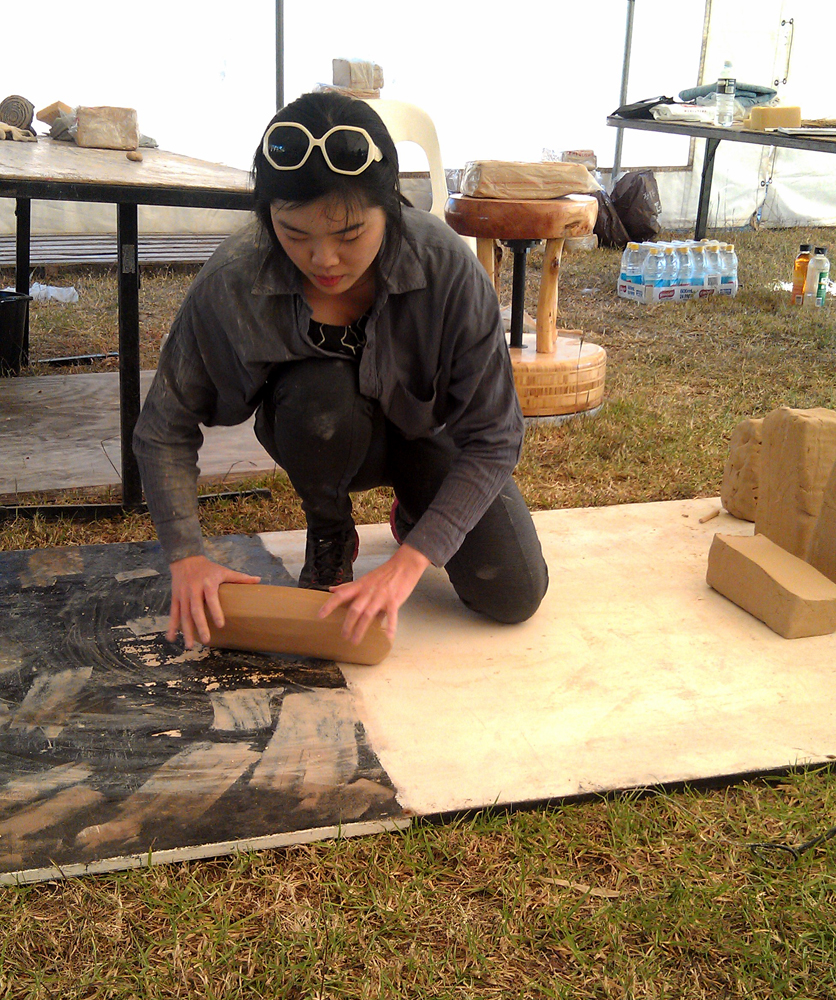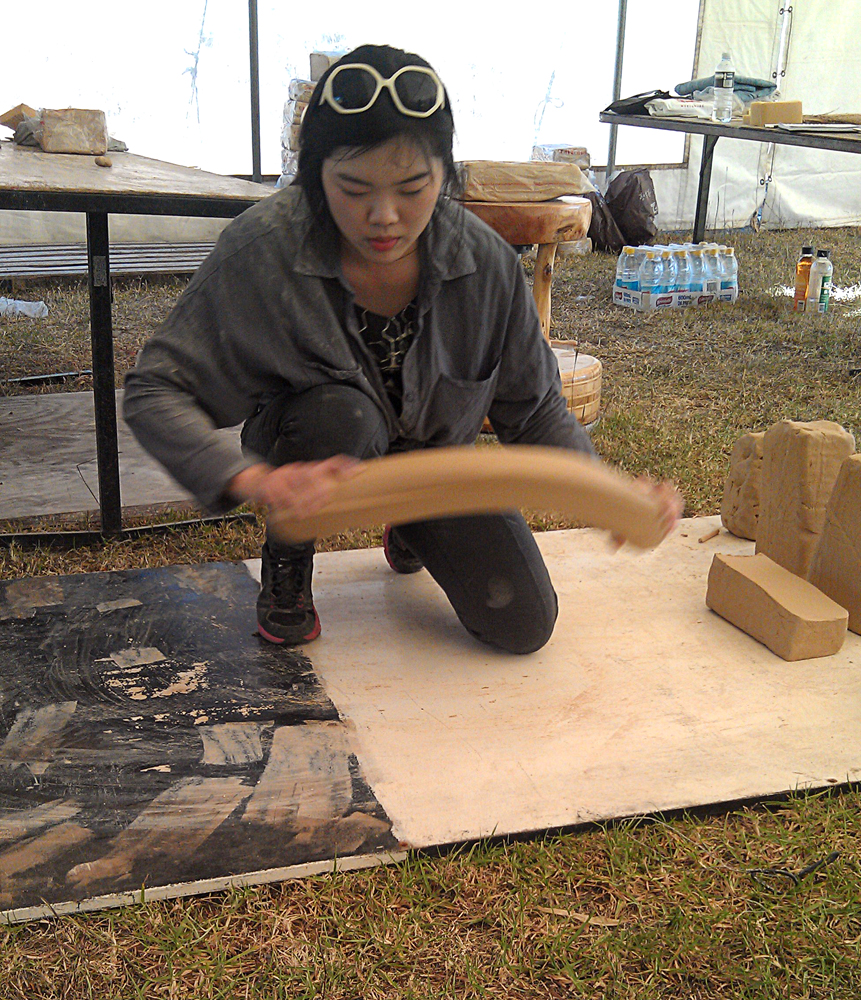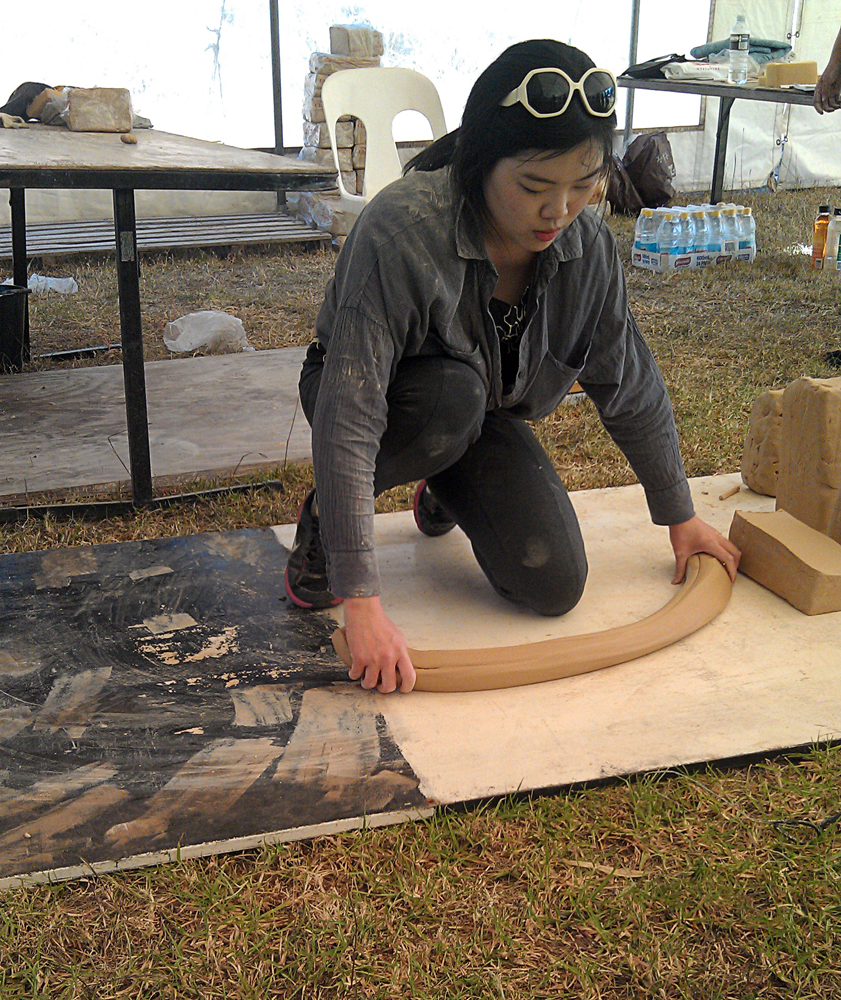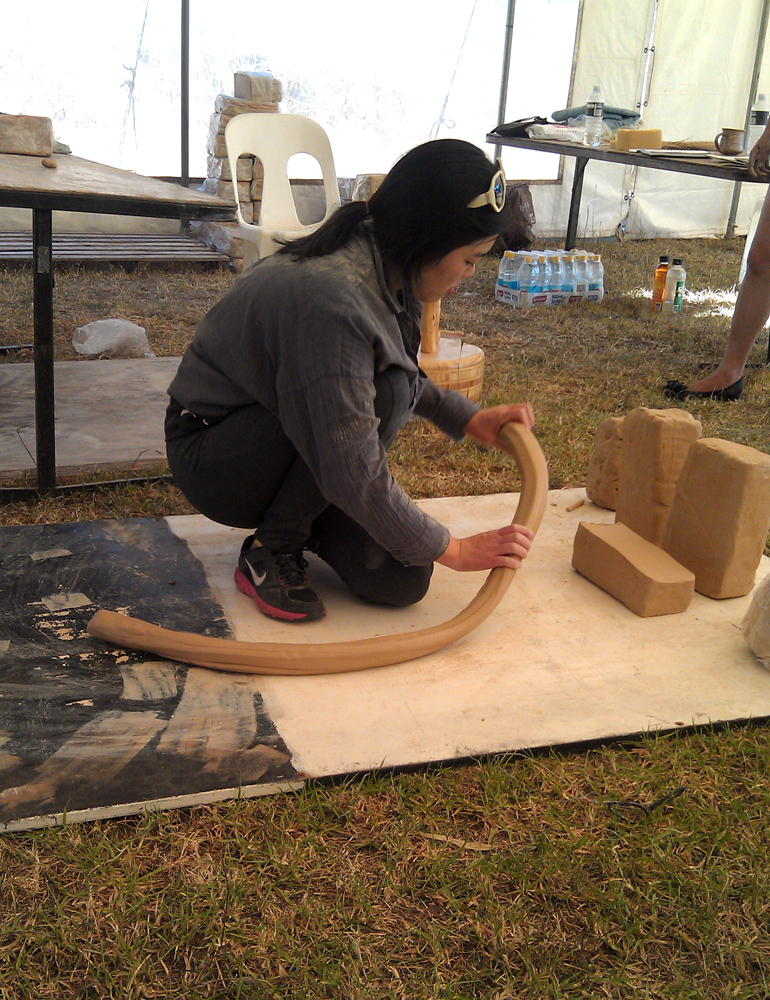 As there were other Master's demonstrating at the same time I wandered off to listen to Frank Boyden talk for a while and when I came back the pot had started to grow. A wire cage thing was filled with coal and used as a heat source to speed up the drying process of the clay, if you build a pot too fast it will collapse. As a Tasmanian I was fascinated by the coal. I had never seen coal before in my life and it just smelled smoky like firewood as it slowly burned away.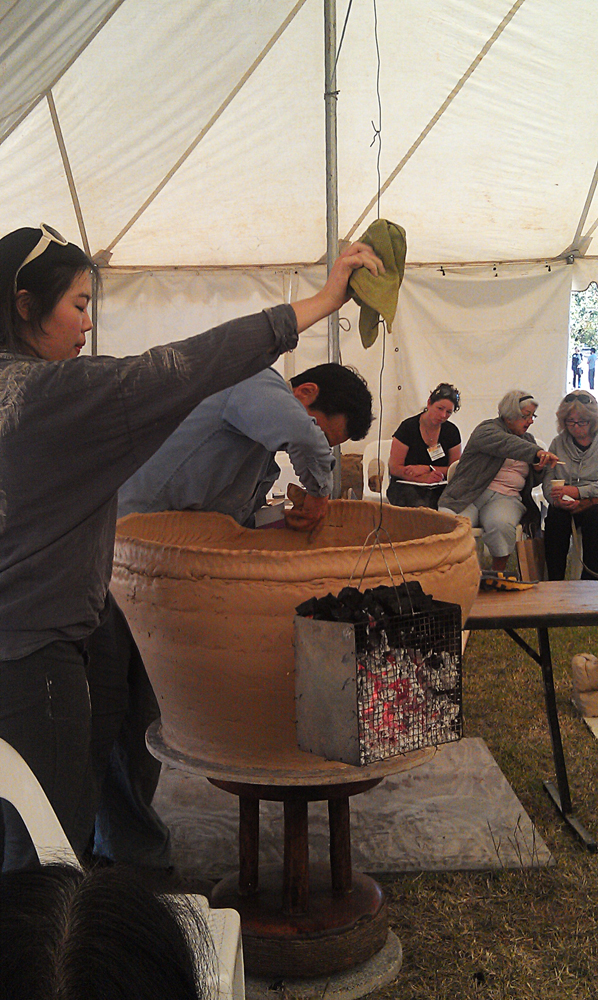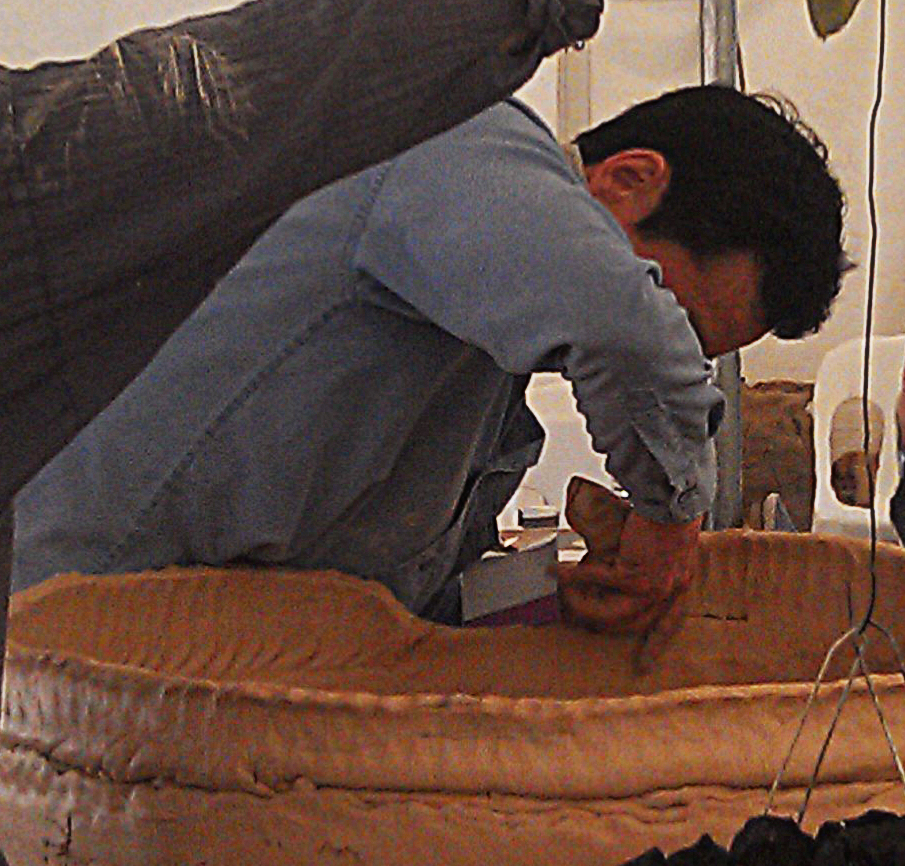 Lee Kang Hyo positions the coal burner inside the pot to help with drying.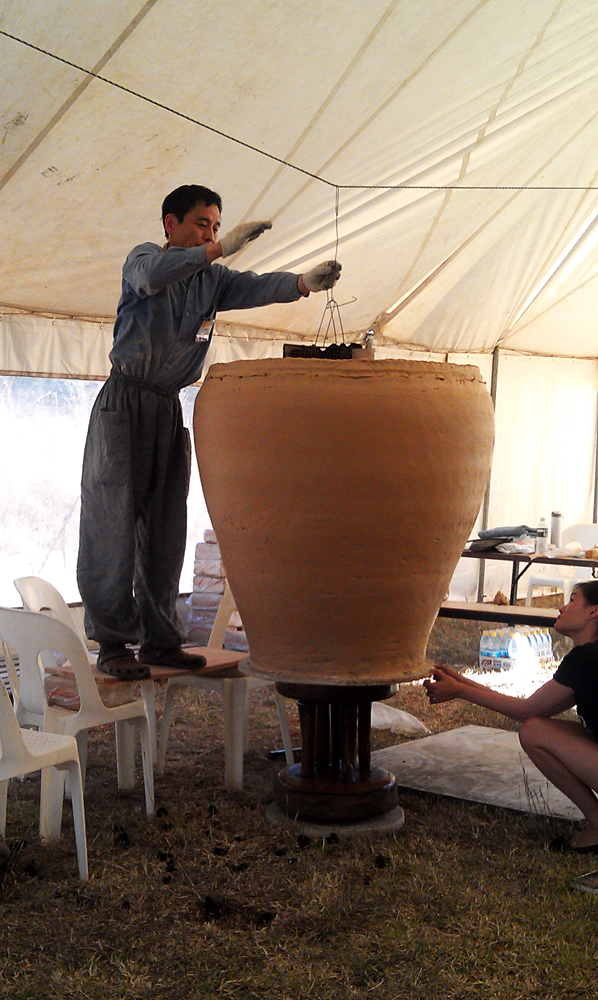 Here is the finished pot. My days at Gulgong have all blurred into one giant memory and so I can't remember if this was built in two days or over the course of three days.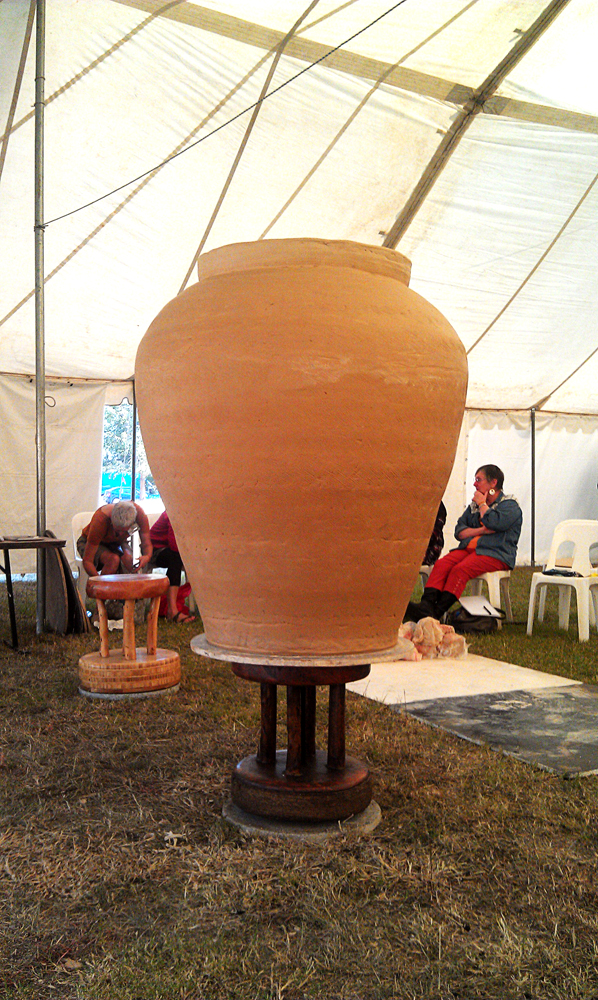 Now the pot is complete the real fun begins, a car was backed up to the Marquee, a computer was hooked up to the cars sound system and to the accompaniment of traditional Korean music, with lots of drumming, Lee Kang Hyo began his performance art. He politely warned the audience that they might get splattered with slip and then he started throwing buckets of slip at his pot. It was wonderful.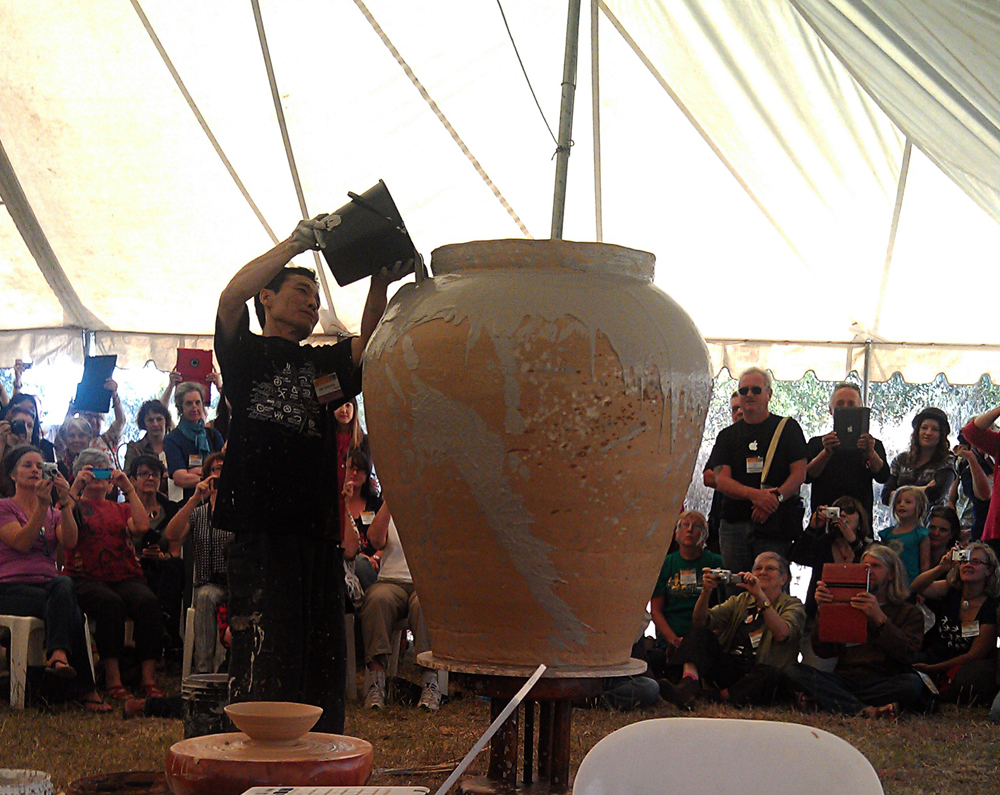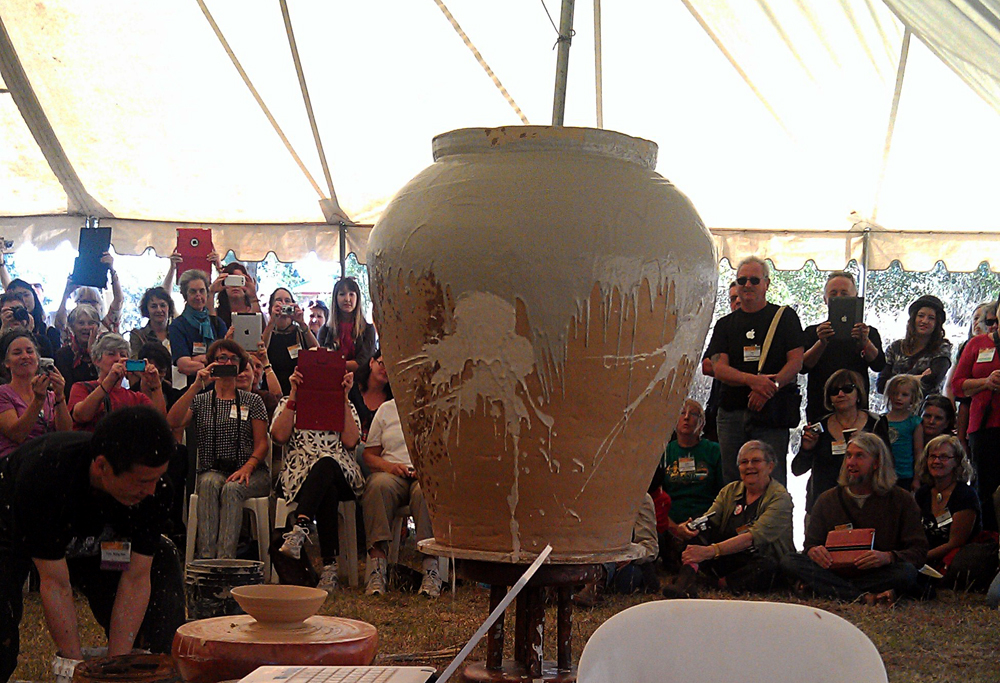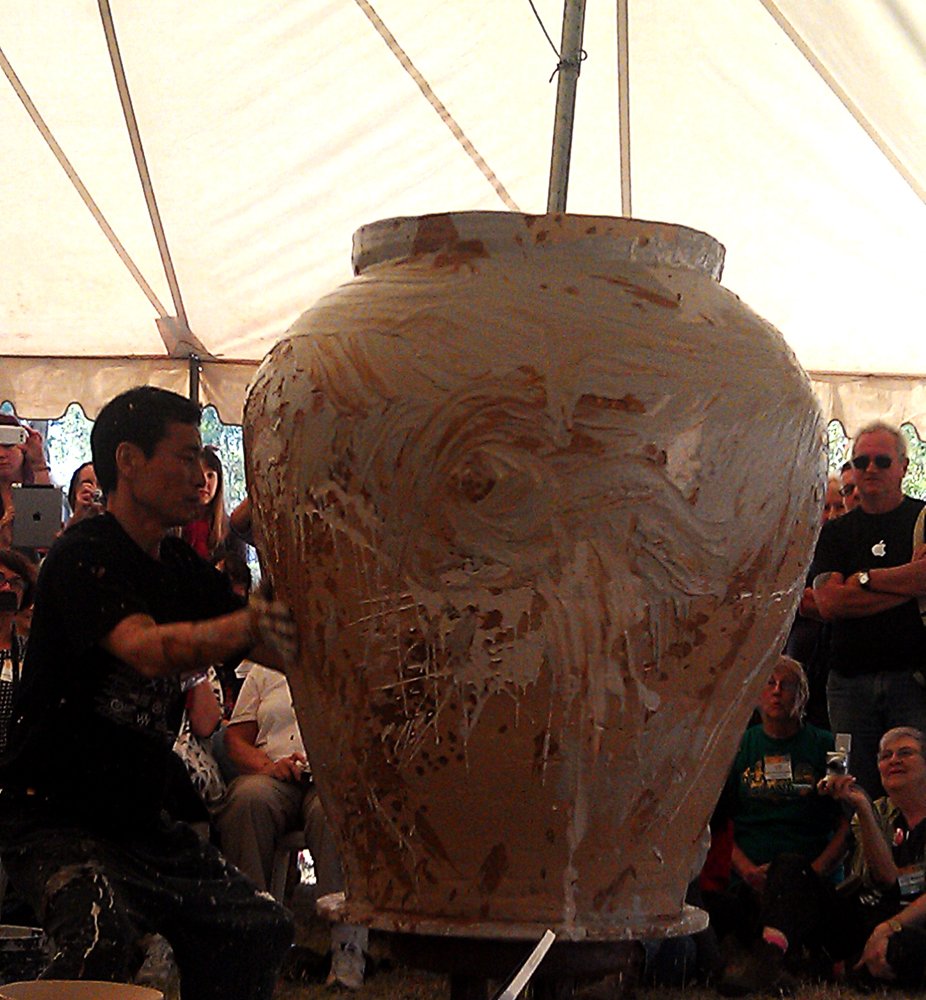 On our final day at Gulgong Yuri Wiedenhofer with the help of many enthusiastic potters wrapped the pot with muddy coils and we had a lovely fire sculpture to finish out time at Gulgong.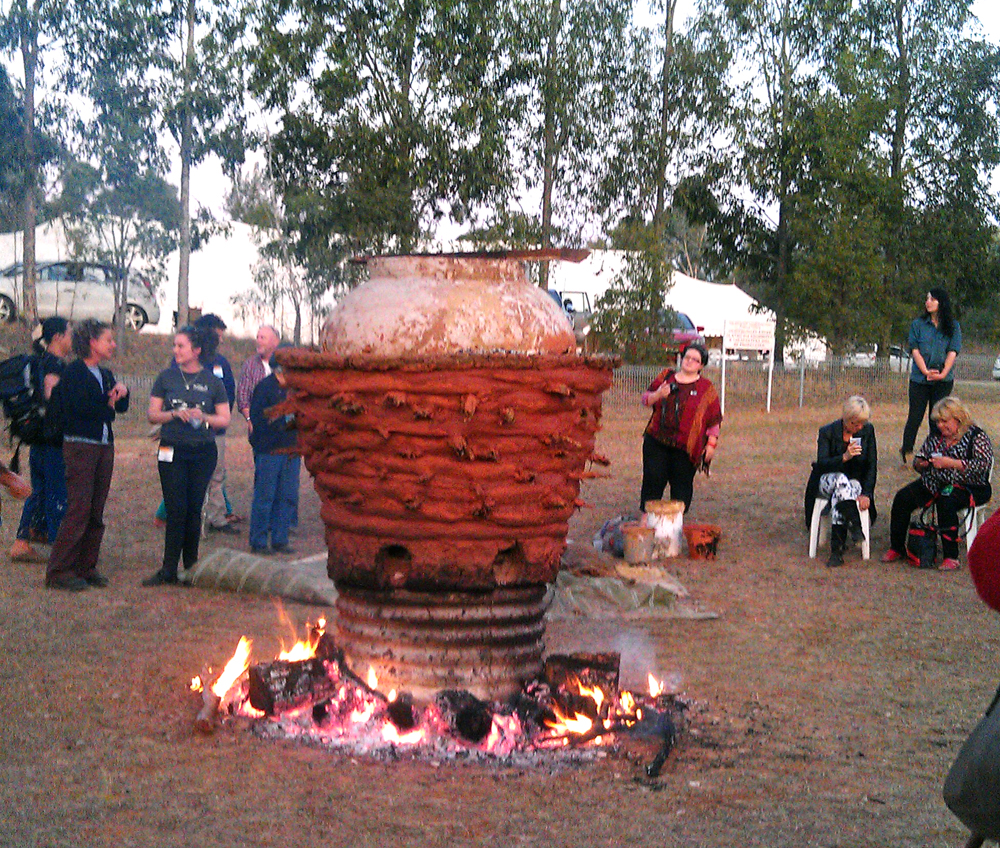 In my next post I will share all the wonderful gems of knowledge I picked up from listening to Greg Daly demonstrate.
{ 5 comments }