I have a serious case of, " The cant be bothereds."  So I am sort of hoping that by simply starting to write something I might become more bothered.
Thankyou to the people that actually read my last  post, your comments cheered me up. I was giggling out loud as I read your comments and they were just the tonic I needed.
6 days ago Mum's GP rang her to tell her that the tumour had grown and that it was now attached to the veins of her heart.
Fuck fuck fuckity ratbrainshitfuck.
On Friday Veronica and I went to Mum's appointment with her. We have been going in as a threesome to all of Mum's appointments. That way we remember to ask all the questions that we have thought of during the week preceding the appointment and we also manage to remember what the specialists have actually said.
The short answer is that Mum is not going to have anymore treatment. All care from now on in will be palliative. We had a lovely set of doctors on Friday. The head of radiation looked at Mum and said that she looked much too well to be in there. From looking at her scans he had expected her to be looking very ill and very blue.. Ha!
To make things a bit more real for you, here is a photo of my mum taken yesterday.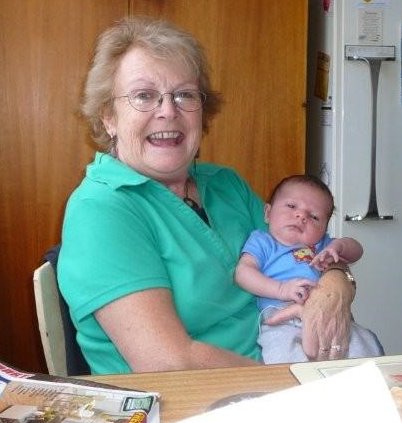 Now does this look like a woman with only a few months to live?
*********************************************************
I really cant think of anything else that I have to say at the moment. The enormity of the bushfire tragedy in Victoria has just left me numb.
So here is a link to various charities if you would like to donate.
So just to put more pressure on you, remember that my Mum reads my blog and if you say anything too morbid in my comments Mum will growl at you. So you should really just tell me a joke instead….