The words are burbling away in my mind and I just can't seem to get them out onto paper in any coherent form. They want to stay tucked inside my head all nice and safe and warm. They want to swirl around in circles and tangents and not be constrained on a screen. They most certainly do not want to be subjected to my loose interpretation of grammar.
Bloody treacherous things, much like emotions I suppose. I think that I am travelling along nicely when all of a sudden something small is enough to push me over the edge.
The little things, the little annoyances, the small inconveniences that can suddenly bring you undone.
Mum's prescription hadn't been faxed through to the chemist. A small inconvenience really but it was enough to reduce me to tears.
A sign in a shop window. Torso for sale, $50. Enquire within. Was  enough to make me  happy.
Look! Look! Isn't she lovely???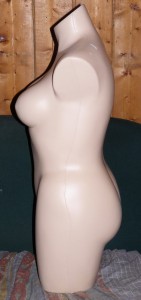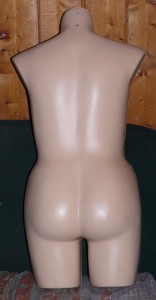 I have been toying with the idea of making bum plates for ages now but I couldn't get anyone to model for me. The bloody sooks my lovely family wouldn't even consider being my models so that I could make a plaster cast of their various body parts.
When Veronica was 17 she nearly agreed to let me take a plaster cast of her breasts. When I explained that I wanted her to cover her upper torso in vaseline and that she would then have to  lie very still on the kitchen table, for about 20-30 minutes whilst I poured plaster of paris onto her bare skin, she decided that she didn't want to be my model after all *SIGH*
Now that Vonnie has breastfed two children I occassionally remind her that If she hadn't been such a sook, she could have owned a set of perky ceramic breasts to remind her of how her boobs looked pre-children. There is a moral in there somewhere…
I am the proud owner of a lovely buxom torso,yay. The sky really is the limit now that I have a model that wont complain at all when I cover her body in plaster.
I have been wanting to take my torso for a walk in the bush as well and photograph her next to some large trees. I have a sculpture lurking in my head that is a tree/woman/suggestion of despair. But I need to remember my keywords for this year are Focus and Resolution. My torso is safely tucked away for later and everytime I walk past her I smile.