To the words that pop into my head. Or to the order in which I do things.
I am so time poor at the monet internet that this blog is sorely, sorely neglected.
Maybe tomorrow I will write an insightful blog post full of charm and wit.
I am typing so hurriedly that I wrote monet instead of moment in my second sentence and I sat for ten minutes pondering the significance of that word exchange and I thought it looked so nice that I have left it there. I am now thinking about blurry paintings and what a shame it was that Monet had a hissy fit and destroyed so many of his paintings.
Speaking of paintings.
I am part of a group show in Burnie in the north west of the state, that opens in less than four weeks and we have all been given a canvas to use as our Artist Statement. I painted my canvas yesterday. I am going to add some text to explain my work as well as some photographs of  the work in progress and maybe glue a cigarette lighter onto the canvas as well.
The hardest part about any job is starting.
Apparently you have to rub some white spirits over the canvas to break down the fibres. As the canvas was propped up on the shelf drying, I asked twitter how long I should wait before I started chucking some paint about. The answer I liked the most was straight away. So I set to work
These photos were taken with my phone.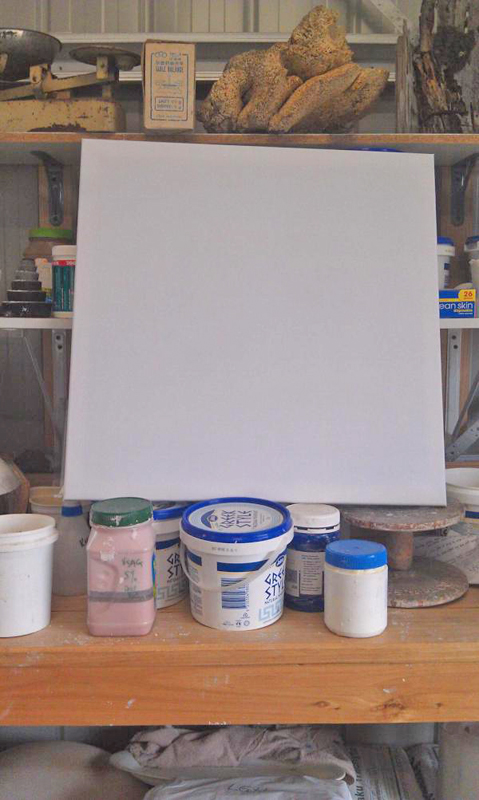 I started off using a piece of cardboard as a paintbrush and smeared some yellow poster paint all over the canvas.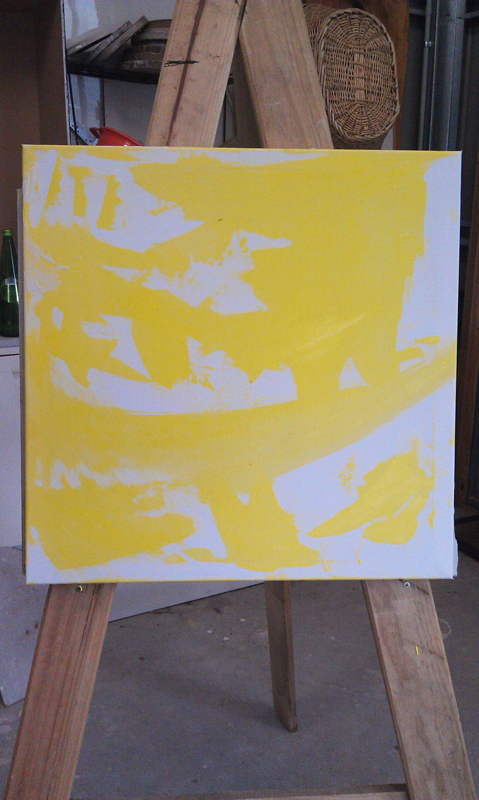 The cardboard soon became soggy and left little pieces of itself on my canvas, so I changed tools and started to use a cigarette lighter as my brush.I also fingerpainted quite a bit as well.
And this is the finished background to my Canvas Artist Statement. All I need to do now is tell the story of the body of work that I have made for "Fired Up" and have it all done by the end of February.
And of course remember to breathe…