I would never in a million years deliberately align myself  with a brand like Nestle. The evidence of poor corporate practice is far too overwhelming for me to ignore and the thought of supporting a brand like Nestle is anathema to me. I lump Nestle in with my other least favourite brand Monsanto and I try to avoid any purchase of their products. It can be quite tricky trying to work out exactly where their corporate tentacles are tangled. So you might find this post  an interesting starting point.
I am an adult living in a first world country and as such I have the advantage of being able to pick and choose my lifestyle choices.
I am standing on my soapbox today, NOT to make anyone feel bad, but to ask questions that bother me.
I am baffled by the silence from a large number of bloggers that attended the bloggers brunch yesterday. I  know that there were bloggers at this brunch who I respect and I am interested in their thoughts. Why the silence on twitter yesterday? Did you miss the conversation about Nestle on twitter? Are you still working out how you feel? Or did you respond and I missed it?
The bloggers brunch is now a familiar event in blogland. Bloggers get invited to a brunch. An air of exclusivity is maintained which make the invites to these events highly sought after. Brands representatives  turn up and throw buckets of freebies at the lucky bloggers and the blogger in turn goes home and tells their  friends and readers how wonderful said brands are.
Everyone is happy happy joy joy.
Except me.
Watching from the wings and tweeting my displeasure about the fact that Nestle was one of the brands at the most recent bloggers brunch held in Sydney yesterday, my thoughts were Nestle? Really? Then I thought that maybe people didn't know about Nestle's atrocious corporate record, so as the #bloggers_brunch tweetstream started to flow I tweeted this tweet using the #bloggers_brunch  hashtag.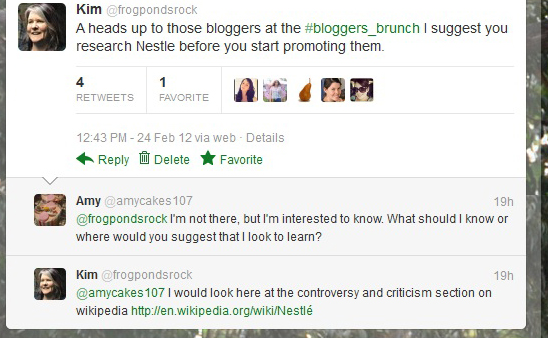 Just to make things easy for the bloggers attending the brunch I tweeted a link to the Nestle Wikipedia page. The controversy and criticism section makes an interesting starting point.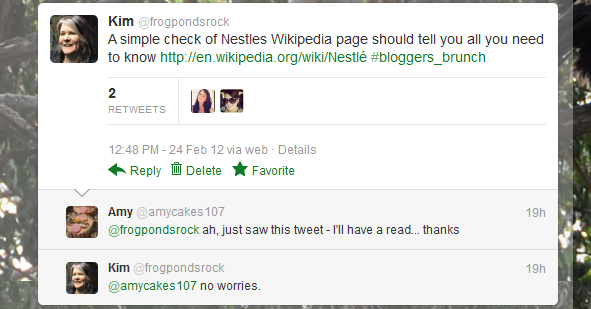 By this time other people had tweeted their displeasure at Nestle being involved.
I was at work at the time so I wasn't following the twitter stream too closely, but I was very surprised by the absolute silence from the bloggers at the brunch.
So I started to poke at the organiser a bit by responding to her Nestle tweets with rather provocative replies of my own.

Deathly silence.
poke poke poke

I am sure there are bloggers out there who don't want to ripple the bloggy gravy train by saying anything negative about the wonderful brands who were at the bloggers brunch. And from some of the instagram photos the brands were very, very generous. But I do wonder, is a bootload full of plastic product and free samples of  milo and tim tams really worth that much? Is it that easy to become so caught up in the hype and power of  brand events that it doesn't matter what companies are giving away the free stuff as long as it keeps on being free?
I would like to finish up by stating very clearly that it is not my intention to start throwing stones, or to make people feel bad. I am trying to start a conversation about how we consume, not just the products but the message from our corporate masters.
The message I get from all these brand events is one of  rampant consumerism an any cost and honestly people the planet cant really take much more punishment, but that is a post for another day.