Adriana Christianson from the Mud Colony Blog has a weekly link up of ceramic posts on her website.
I thought that It would be nice to do a weekly what has, or hasn't been happening in my studio and link these posts up with the Mud Colony Blog.
When I decided to get serious about clay in 2006, I knew deep in my heart that I was a thrower, in fact I knew that I had been born to throw. In my first year of study, I spent hours and hours on the wheel and with each pot that I cut in half and threw into my recycle bucket, my conviction dimmed.
It took me three years of serious effort on the wheel to finally realise that I don't actually like throwing all that much. I don't like the time it takes to get set up, I don't like sitting still and I really don't like coming back to the work and turning  yesterdays pots.
I was taught by Dawn Oakford a slip casting maestro with a love of colour who fires in oxidation and Ben Richardson a woodfiring, production potter with a passion for digging his own clay and glaze materials.
Both of my teachers influences are strongly evident in my work and I have learned to balance my love of delicate slip cast pieces with my need to create rustic earthy slab formed platters.
For first time visitors there is a bit more about me  on my ceramic gallery page.
So this week in the studio I have been distracted by crows (or Forest Ravens for the pedants) I have been trying to photograph the Ravens without much success as they are sneaky buggers, who well remember that one time, 20 odd years ago when I blasted a  few shots into the air to scare them away from my day old chickens. The Ravens have the most gorgeous blue eyes but this is as close as I am able to get to them. So Far.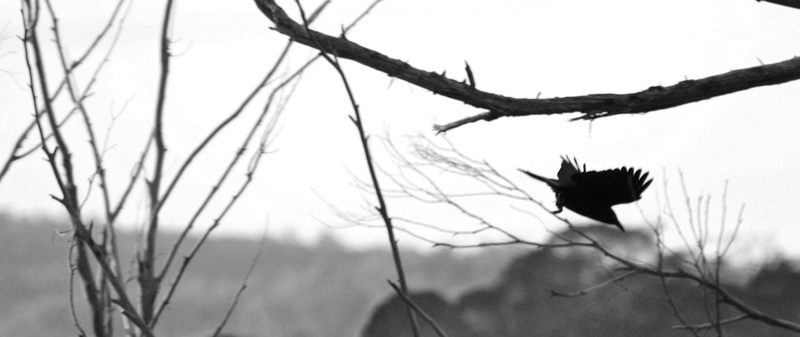 Also I have been nagging (I asked him twice) The Spouse the cut off the tops of some tree stumps in my new orchard so I can plonk some sculptures onto the stumps.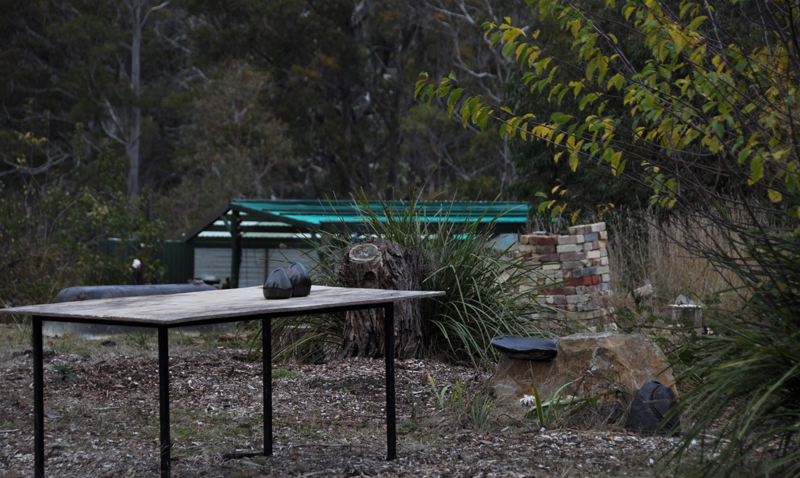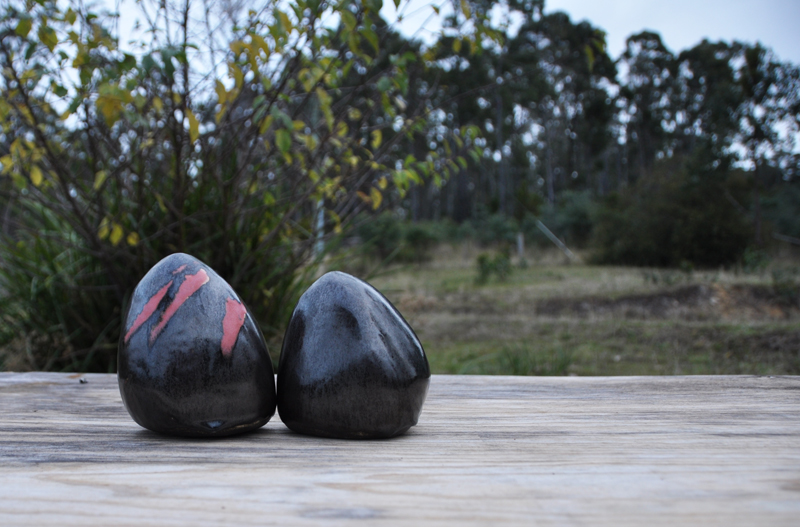 I opened the kiln recently and was shocked by how very, very, very blue some of my work was. As I was staring blankly at the blueness of some pieces, I had a terrible thought. I thought, "Kimmy you added 5.0 g of Cobalt Oxide to 1 kilo of dry weight instead of .05 g didn't you?"
Oh dear, oh deary dear. A quick check of my glazing notes confirmed my suspicion, that I had indeed made such a mistake. I have no idea where my head was that day but it certainly wasn't where it was supposed to be.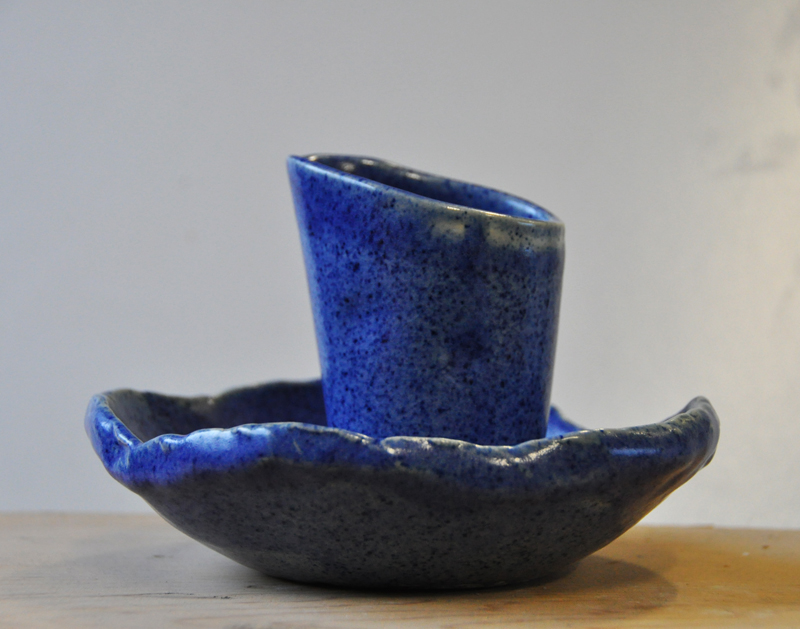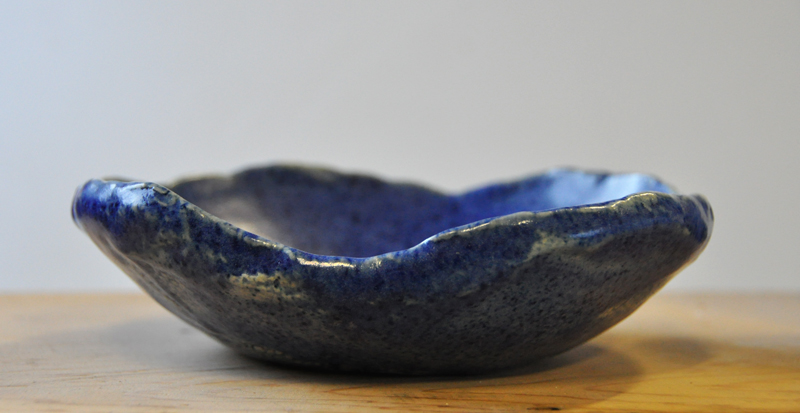 The blue isn't too bad on this bowl as the texture breaks it up but oh my word the blue is hideously measled on some of my slipcast peices.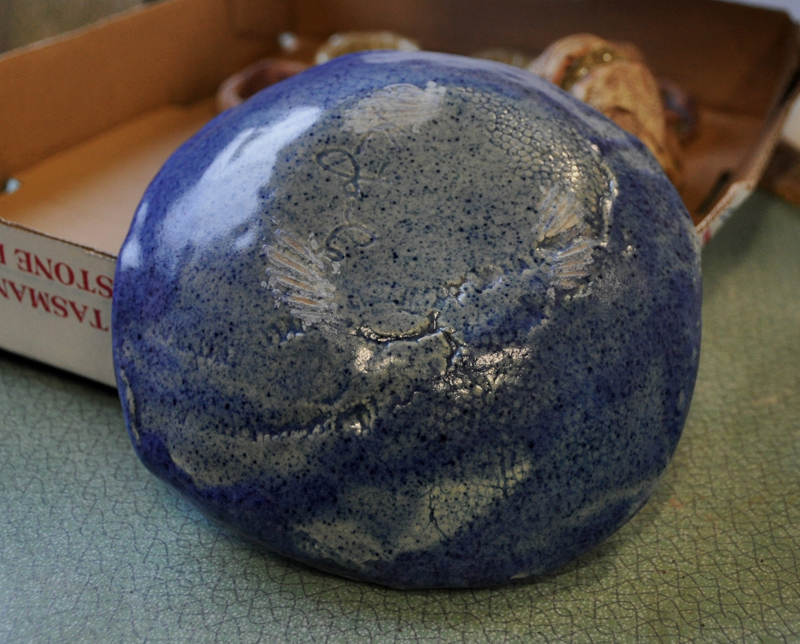 The blueness of the cobalt mistake glaze, luckily also works here on my barnacle platter. So the whole firing wasn't a total waste of time
And just for a bit of reality in the studio. I have been asked to make some slipcast cups for a friend. It has been a bit chilly down here in Tassie. So chilly in fact that I have been loathe to stick my hands into a bucket full of cold, cold clay.This is the chaos of my slipcasting area as it looked this morning. I will be cleaning this space up today in preparation for destroying it all over again with a quick burst of slipcasting. Or I might be chasing Ravens.
Recipes.
Blue Mistake glaze
Potash Feldspar 60. Whiting 20. Silica 10. Kaolin 10.  ( I added 5% Cobalt Oxide)  instead of .05%
The glaze on the Dragon Eggs is VSAG (Vitreous Slip as Glaze) one of Ben Richardson's recipes
Nepheline Syenite 35. Silica 20. Kaolin 25. Dolomite 20 for the black colour I added Red iron oxide 5% Cobalt Oxide 2% Manganese dioxide 2%
I didn't have any Dolomite so I substituted Talc 10 and Whiting 10. The glaze was almost the same as the original VSAG glaze that I have been used to but it is a touch shinier and inclined to run a bit if thick
For the red flash on the dragon eggs I added 2 level teaspoons of fire engine red stain to one cup of VSAG base Glaze.
Iron Wash on Barnacle Bowl
Red Iron Oxide 60. Rutile 20. Nepheline Syenite 20.