Lather rinse repeat.
It is what I do here, I write some words and then I add some pictures. As each word falls out of my brain onto the page I never quite know where these trail of letters are going to take me. I try to put them into orderly sentences, but once I am in the zone the words just flow freely of their own accord, and often I end up somewhere far away from the original idea.
Today I want to write about ceramics and link up to Adriana's wonderful Mud Colony blog, but the words in my head have other ideas and wont let me escape into ceramic daydreams quite so easily.
It has been a huge week internet and I am only on day six.
Last Friday I took my 18 year old son down to Centrelink (social security) to be assessed for the disability payment. As we sat in the room with the medical assessor, David's disability jumped up and smacked me in the face.
SMACK! Your children are broken.
SMACK! Their life is never going to be easy.
SMACK! You have failed as a parent!
SMACK!SMACK!SMACK!
I don't know why I think I have failed as a mother but there is a definite illogical whiff of failure in the air.
We sat at a laminated table in a small interview room with a box of tissues within easy reach. I sat quietly as David listed all the many and varied ways that his body has failed him. The examiners eyes got wider and wider, as my spirits sunk lower and lower and I made good use of those tissues on the table.
Six days ago internet, David's interview was six days ago and his claim has been approved already. I am stunned by the speed of the approval process and I don't quite know how to process this yet.
Half of me, the logical practical half is pleased, because now David can go to school part time without any pressure, and we can access some services to make his life a bit easier.
But the grumpy illogical half of me is angry and bitter and sad and maybe even a bit jealous of you out there with your unbroken children who can walk and run and jump.
Oh internet sometimes it just isn't fair.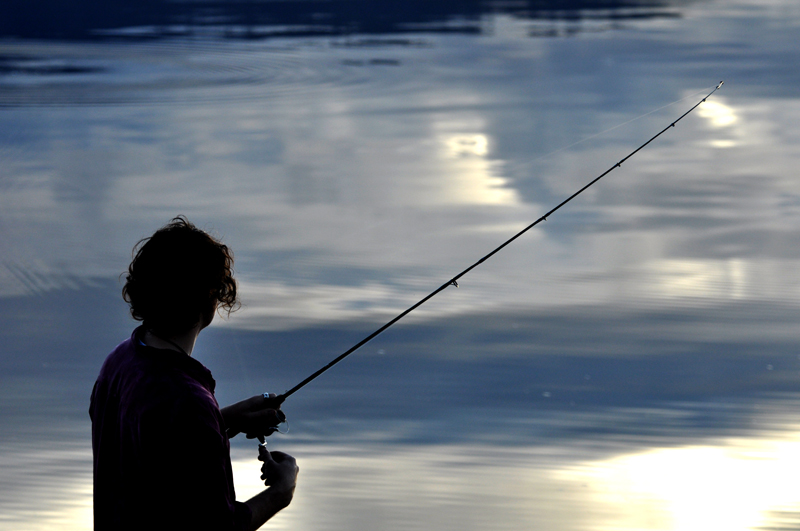 Six days ago I returned home with my heart full of sadness and my mind full of a restless zinging energy.
And then the phone rang. It was my son in law Nathan telling me that my daughter Veronica's waters had broken.
BAM I was instantly into baby mode and twenty minutes later David and I were at Veronica's house, all sadness pushed aside by the impending arrival of my newest grand daughter.
Evelyn Kathleen  arrived 24 hours later weighing in at 5 lbs 2 oz.  The doctors couldn't decide if Evelyn was six weeks early or four so it was off to The Special care unit for Miss Evelyn.
Evelyn Kathleen, one hour old.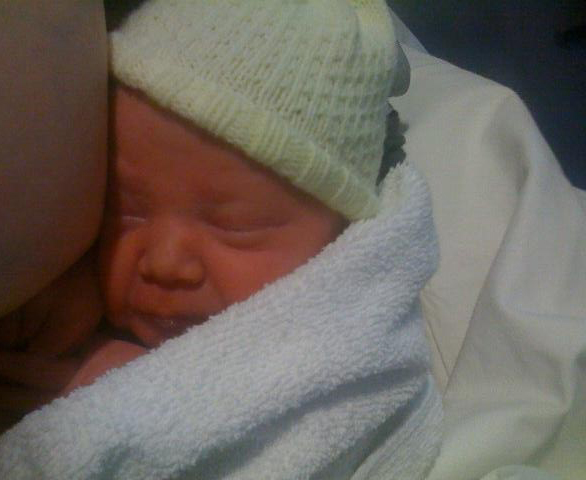 Evelyn at two days old with a nasal gastric tube so that she doesn't exhaust herself feeding.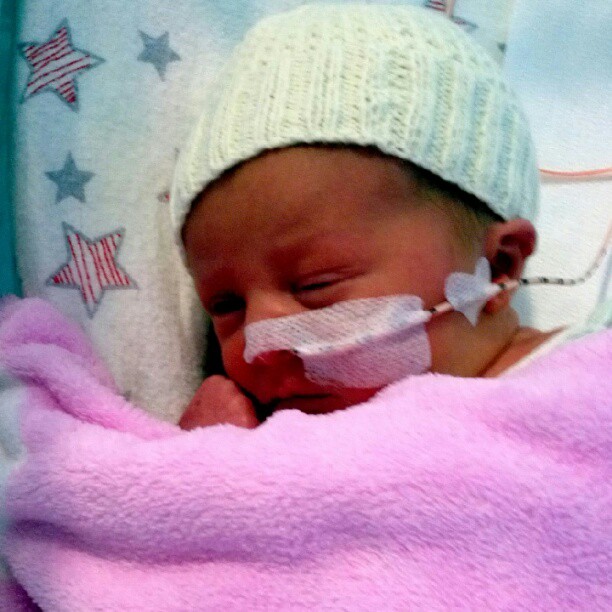 Here is Evelyn at four days old.I had my first hold of my newest grand child last night internet and in those few brief minutes she has managed to make me her slave forever.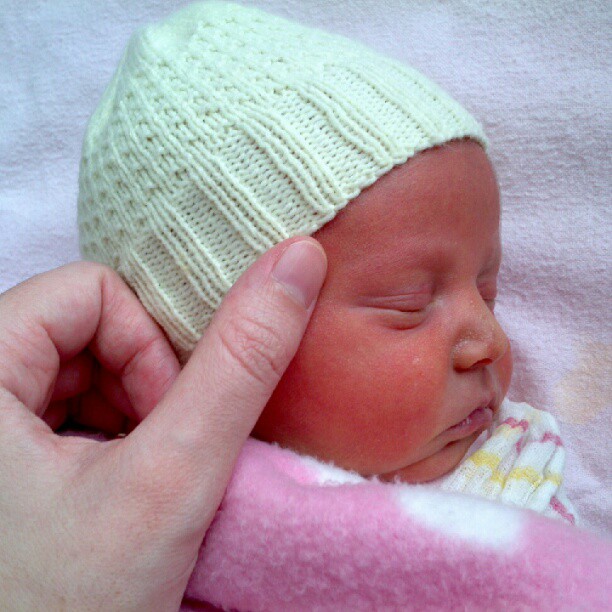 Sitting here, as I think back over the past six days it has been a huge week with towering peaks of happiness and tumbling troughs of despair. As always the sadness never lingers as I am too much of a natural optimist but it is always there internet it is always there.
Late Sunday morning I remembered that I had unfinished work in the studio.
I went in to the studio to find that the slipcast cups, that I had left draining on Friday had released from the mould.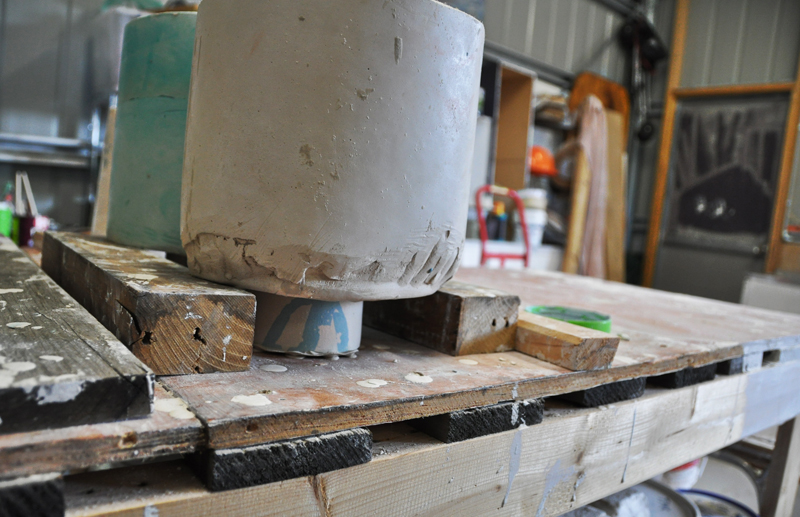 Once I carefully removed the plaster moulds I also discovered that the cups had managed to glue themselves to the table.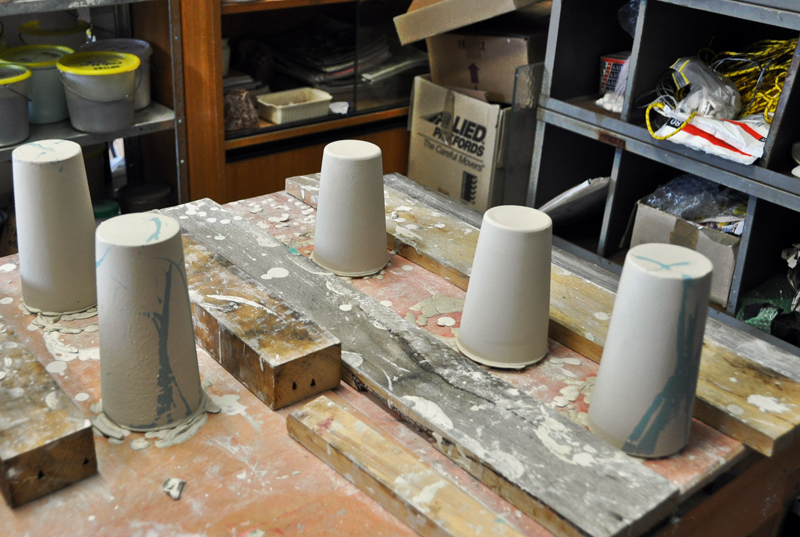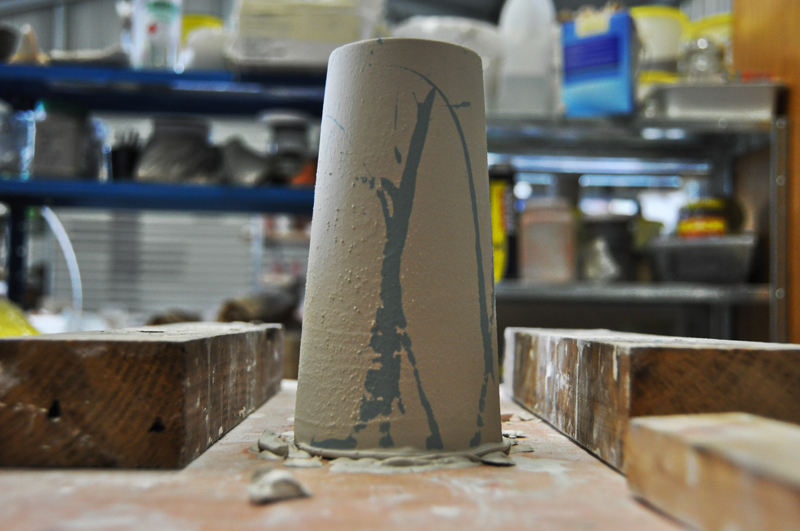 Because it is winter, everything is drying very slowly, so I had to treat these cups as if they were fresh out of the mould and not three day old cups. I very carefully un-stuck them from the table, without squishing them too much.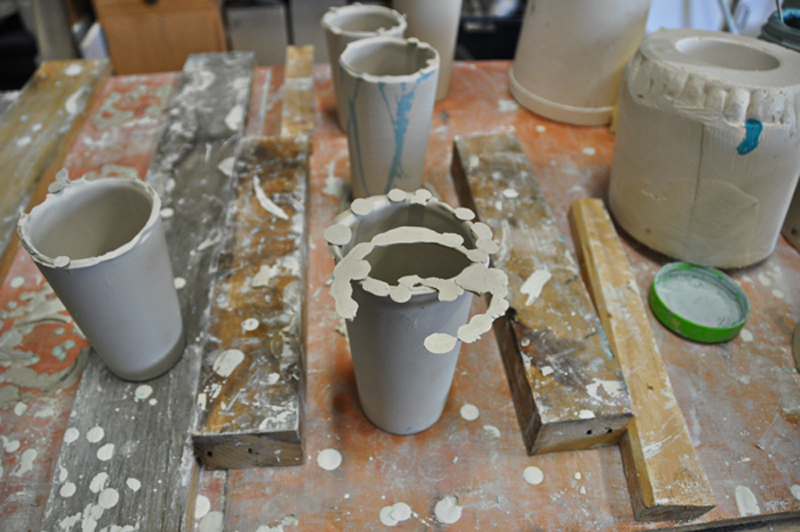 These cups were still too wet and flexible to clean up, so I left them to dry for another day. What is a new Grand mother to do when she works for herself and the work isn't ready? She goes down to the hospital to annoy her daughter and gaze adoringly at Evelyn of course.
In the space between working in the studio, driving into the city to visit the baby, worrying about my son and faffing about on the internet pretending to be a rockstar, I discovered Instagram.
I posted these images on Instagram on Tuesday, showing these cups being finished off.
I loved the instant conversation that was had on twitter and facebook, as I showed the work being made. I will finish up this post with the Instagram photos I shared as they are of these cups in the photos above.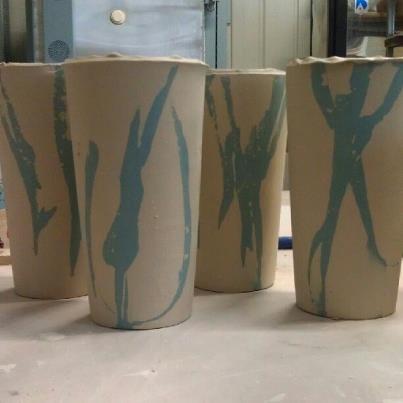 I trimmed all the daggy bits off the cup rims and just generally cleaned them up, this can take anything from 5 minutes to twenty minutes per cup, depending on how I am feeling and what I want to do to the cups. I will put these away on the rack to dry, they will be bisque fired to 1000 degrees centigrade. I will glaze them with a clear glaze and fire again to 1260 degrees.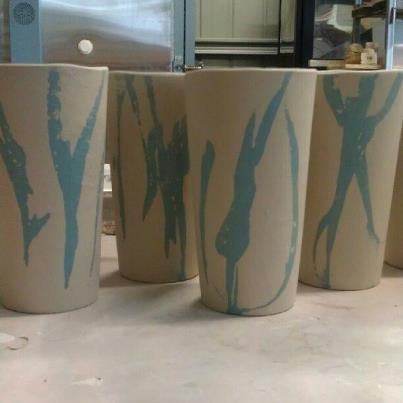 Here are some similar cups from the last firing.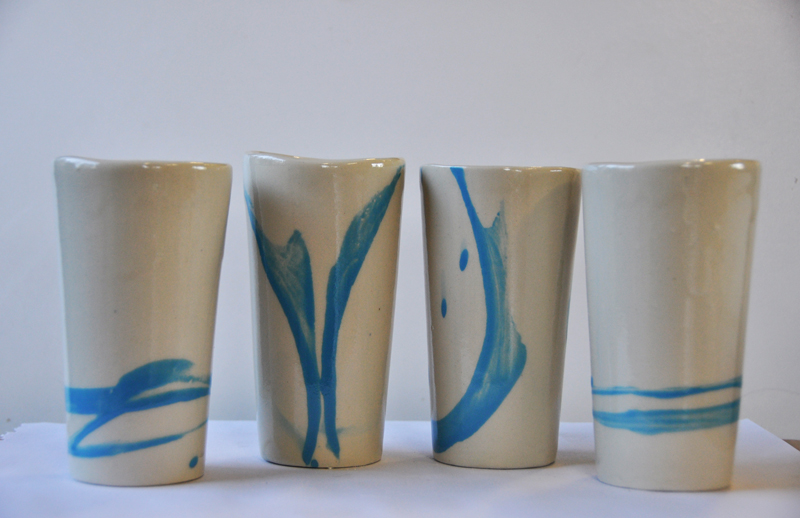 I am about to make some textured cups here and I have rolled out some of clay, flattened the clay out out  and used stamps to add texture.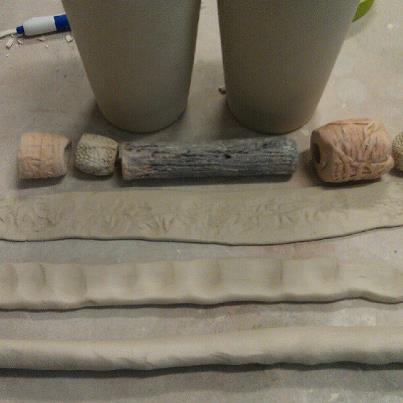 Here I have scored the cup and then painted slip onto the clay strips as well as onto the cup.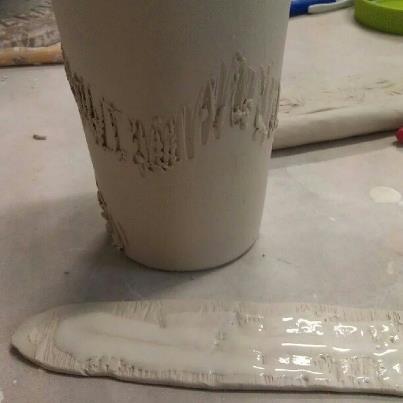 I will spend ages fiddling with the texture on these cups until I am happy with the landscapey weathered rock effect.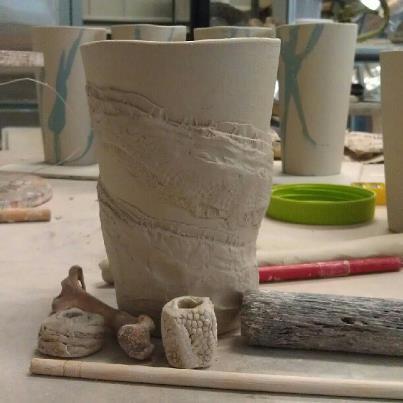 Once the cups have been bisque fired to 1000 degrees I then rub the texture with a Red iron oxide wash and glaze the inside with a deep blue or green gloss glaze and fire again to 1260 degrees.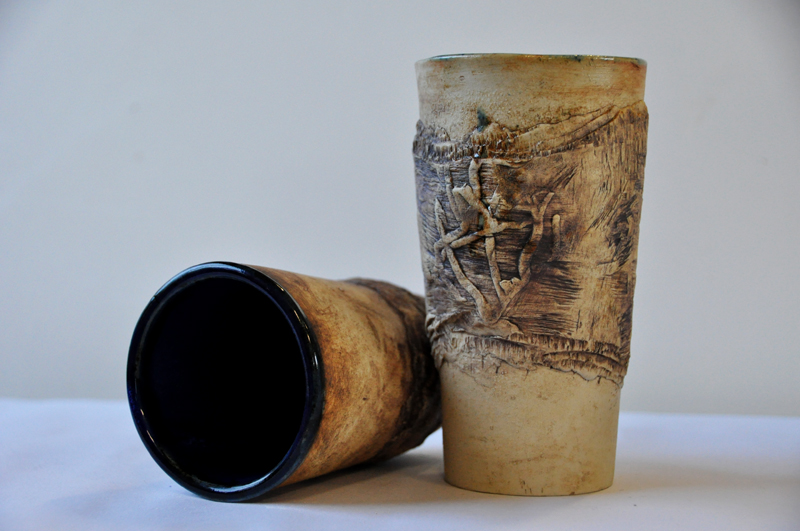 And that internet was my week in words and pictures, I am back off into the hospital via the Kawasemi tea rooms in Moonah, to grab some takeaway sushi and sashimi for my girl Veronica.