The Absentee issue.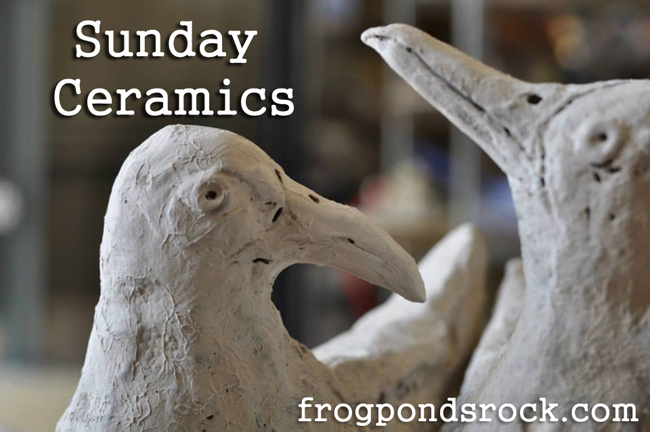 Hello Everyone, I am not home, I am not here, I am away in glorious Melbourne having ceramic adventures. Or at least I hope I am as I am writing this on the day before I fly out, so I am sort of time travelling via the magic of the internet as I pretend that it is Sunday when it is still only Wednesday but is really Sunday.
Confused?
Here have some spoons. This is what the spoons look like after the magic of firing. The blue is so pretty.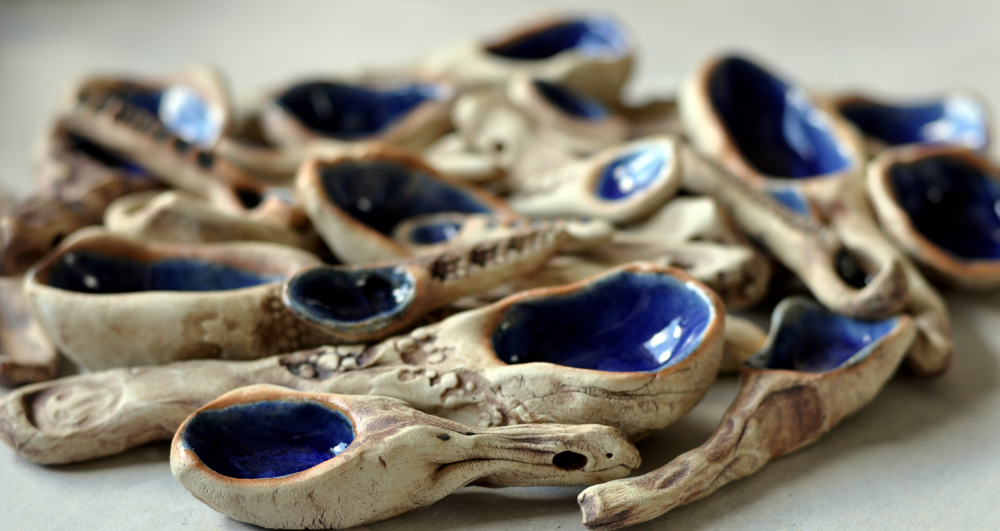 The firing was a good one and there were some treasures to be found.
The large bird on the right is the same bird that is in the Sunday Ceramics image. I hand built the bird using BRT clay (Feeney's Buff Raku Trachyte) which is a gloriously robust clay that can be fired from 1000-1300 degrees. After I had finished making the bird I covered it thickly with Southern Ice Porcelain slip to see what would happen. You can see how it looks after a bisque in the Sunday Ceramics photo above. I then glazed it with a clear gloss glaze (RL*) and tadaa, quite a nice result. The small bird to the left is also made using BRT and I glazed it with a matt glaze (MM**) and I am super pleased with how they both turned out.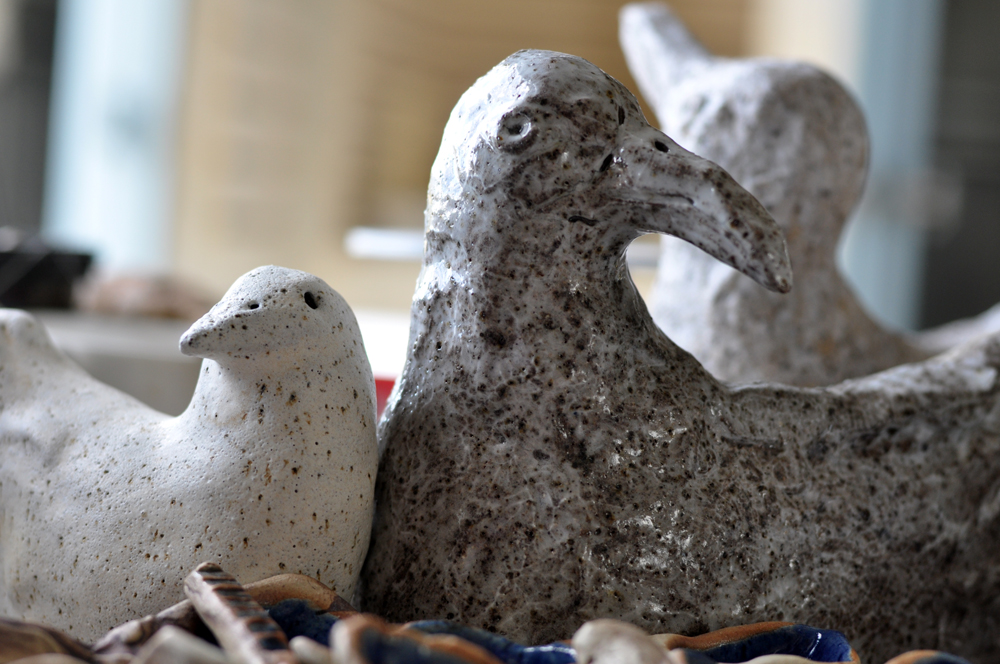 *RL Ruth Langman named after the artist who formulated it. This glaze is quite forgiving if you are a slapdash glazer like I am and it feels lovely in your hand once it has matured. I have fired it from 1240 – 1300 with no problems at all. Though it will craze a bit if it is too thick (ie: triple dipped)
Silica==31
Kaolin ==10
Nephelyne Syenite == 30
Gerstley Borate ==21
Wollastonite ==8
**MM Mellow Matt. This glaze was given to me as a student by Ben Richardson and I have a love hate relationship with this glaze, at the mopment I am in love with it as it seems to like being fired at cone 9 the best and I am getting some lovely satiny results in my test tiles. And the small bird is just gorgeous. Because of the amount of Kaolin in this glaze it isn't really suitable for slipcast cups as it is just too thick for the bisqued slipware to cope with.
Potash Feldspar== 50
Whiting== 25
Kaolin== 25
Rutile flour== 3
And that is me for today, I am (hopefully) at Warrandyte and I am either swanning about the place networking like mad wearing my Presidential Hat OR I am having trouble swallowing my anxiety down and I am looking at pots and not wanting to interrupt the potters who I really want to talk with.
It could go either way.
Having some technical difficulties with the Mr Linky as I'm in Victoria. Leave your link in the comments until I can get home and wave my magic wand at things.
Using the "Sunday Ceramics" title and photo I provided is OPTIONAL it is up to you.
Then PLEASE
Link back here to me.