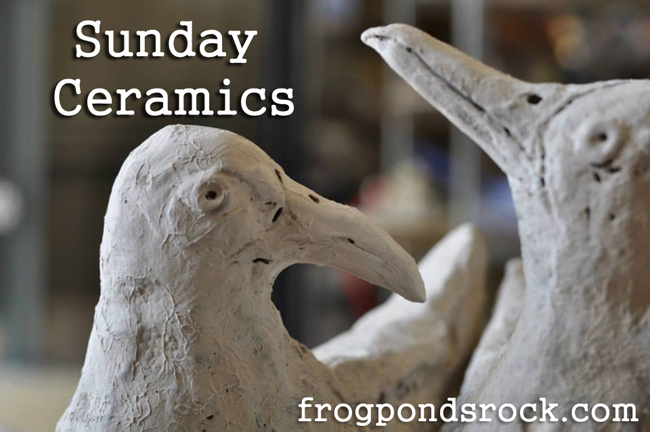 Hello Mudslingers and general populace of the internet, I am home safe and well from my interstate jaunt. Melbourne was its usual glorious self, Ballan was sweet, St Andrews market was lovely and Warrandyte was fun. From my trip away I have learned that I am not a market person as watching Truly Southurst set up and take down her market stall was a bit of an eye opener. All that packing and unpacking every weekend would do my head in and I would end up giving all my work away to avoid carrying it home again.
I salute you brave marketeers.
I haven't done much this week as I am on the downward side of a making cycle and the studio is full of work fresh from the kiln that all needs to have their bottoms sanded.
I was walking down my driveway swinging a string of skulls to and fro, when a driver of a passing ute goggled his eyes at me and I realised it looked like I was walking down the driveway swinging a dead snake.  Ha. My Legend is growing by the minute.
I lay the skulls down in the gravel and took a photo. Then I channelled Johnny Cash for the rest of the afternoon humming, "Don't take your skulls to town son, leave your skulls at home."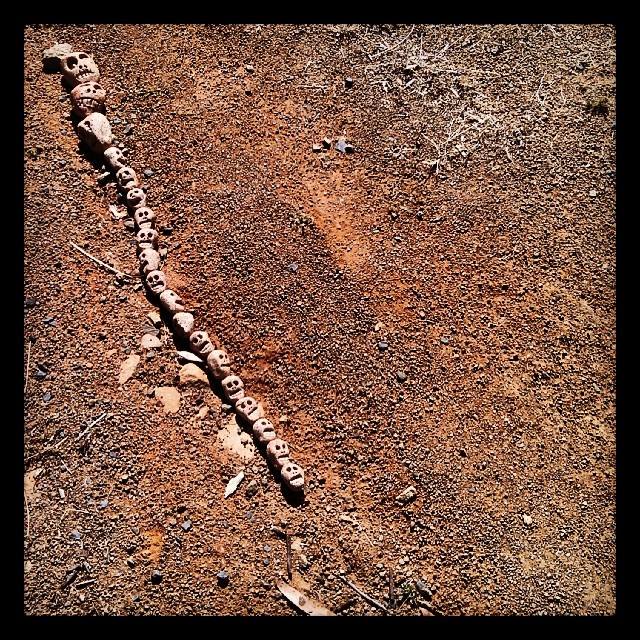 This morning I am off very soon to host Clay Club at the Tasmanian Ceramics Associations studio in Glenorchy. It looks like I will have a full house with four children and three adults all busily playing in the mud making glorious creations.
I am sorry about the broken link thing last week, it was working perfectly when I pre-wrote the post and saved it in drafts but somewhere between saving and pressing publish, the code vanished. pffft  just like that.
I will cross everything that the link works today and I shall come and visit your blogs this afternoon when I get home from Clay Club.
Add your name and URL to the Mr Linky below.
Using the "Sunday Ceramics" title and photo I provided is OPTIONAL it is up to you.
Then PLEASE
Link back here to me.