Hello and Welcome to the ninth edition of Sunday Ceramics.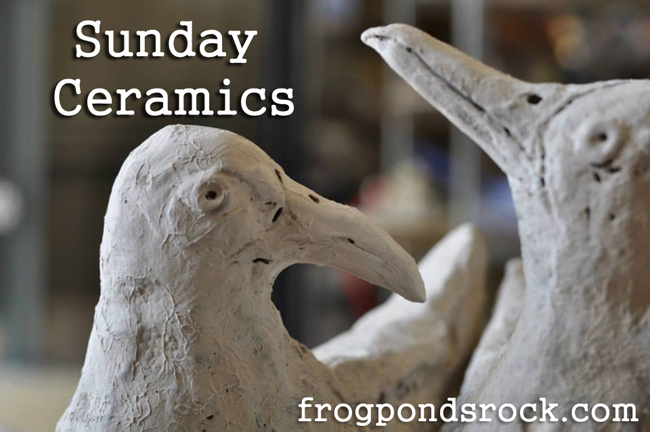 This is "Epiphany the Elephant" I have probably  talked about Epiphany here before and so if you know her story, just skip along to the next set of photos.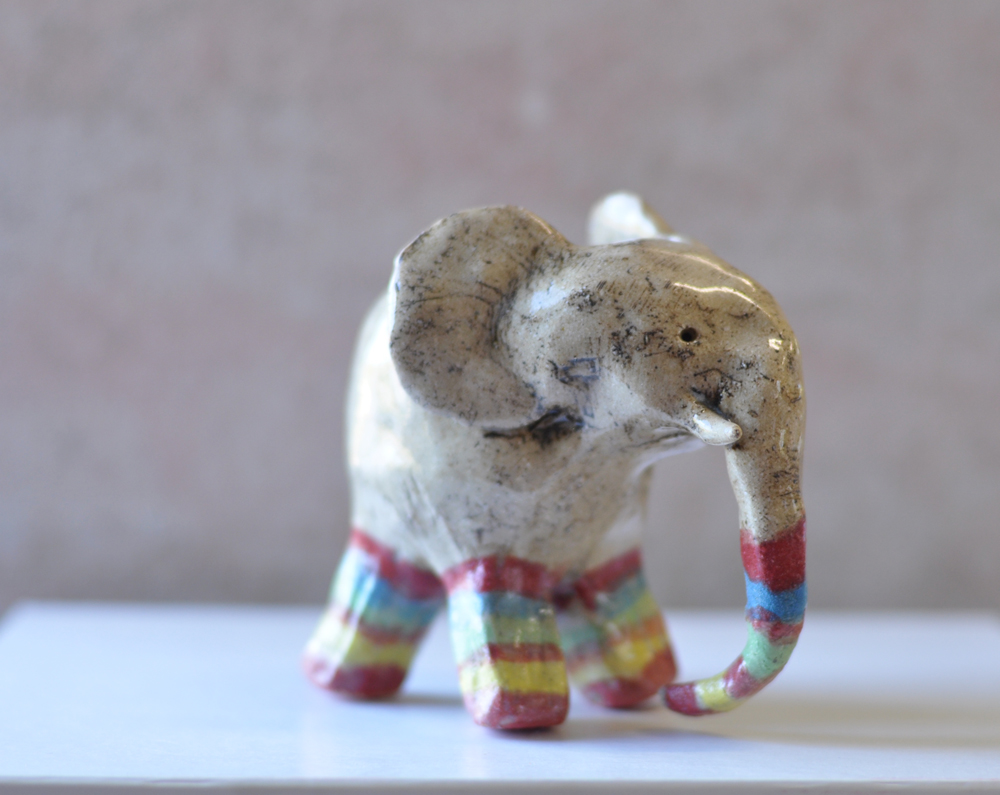 I teach a mixed class of children and adults that has evolved into Clay Club. At the end of each clay club I generally ask what the children would like to make the in the next session. My most prolific student very seriously told me that she would like to make a desert full of jungle animals.
A few days before clay club I thought I had best try my hand at making a couple of jungle animals so that I could keep up the illusion that I knew a thing or two about clay, and much to my surprise, the elephant turned out rather well. I was even more surprised with how much I enjoyed making it. At the same time as the elephant was drying out, an internet friend of mine, Lauren, who had suffered a devastating personal tragedy that is much commented on in darker corners of the web, opened up her facebook page with a thread, titled "The Elephant in the Room" Her bravery, grace and honesty, humbled and honoured me as I was named a mentor and giver of sage advice in the thread.
In the same week I was visited by another sweet friend, who accidentally broke one of Epiphany's tusks off as she was drying out. My poor friend Carol, was devastated by the broken tusk and try as I might I could not convince her that the break was unimportant.
Is still unimportant.
As the fact that I had made the elephant was much more important than whether the elephant survived or not. Epiphany the elephant was a catalyst for a rather critical realisation, that I can make things purely for fun, that I do not need to have context, or a point of reference. This was quite a big leap for me to make in my head as sometimes my Aspie brain makes me think along ever narrower straight lines.
As potters we understand the transience of the objects we make, the all or nothing toss of the die as we fire our kilns, the knowledge that disaster is possibly just around the corner and the relief when we finally crack the kilns for a quick peek, that everything has worked as it should.
The breaking of the tusk was a gift and an integral part of the journey that Ephinany and I are on together. Trying to make Carol feel better I dabbed a tiny bit of red underglaze on the break and made some flippant comment about poaching, that made Carol groan again.
Once Epiphany had survived the bisque, the red underglaze on the tusk was like a beacon telling me that more colour was needed. I had been thinking about Lauren quite a bit, so I gave Epiphany rainbow socks and a trunk warmer in her honour and also because I think an elephant in Tasmania would be a bit chilly. I wrote a blog post later that week about Elephants in Rooms and didn't think much more about anything until a few months later.
When this happened.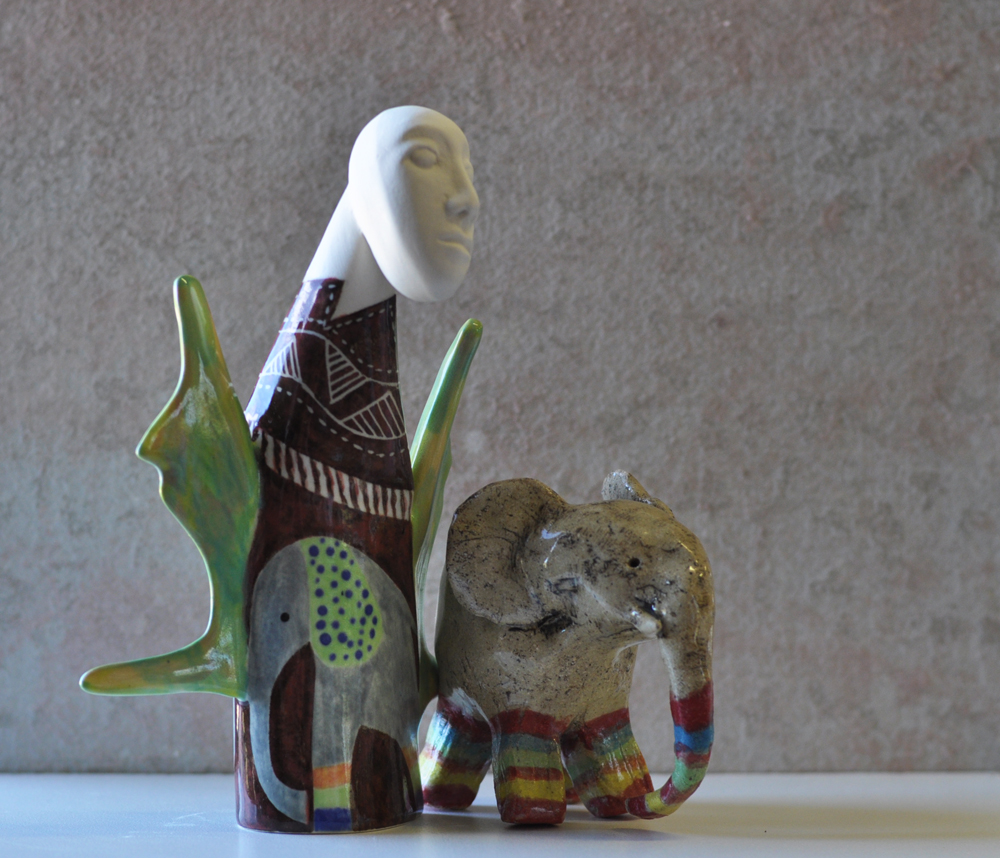 A ceramic gift from my friend Dawn Oakford, "The Angel of Jumbos in Socks" I do not think I have the words to explain how happy this angel makes me.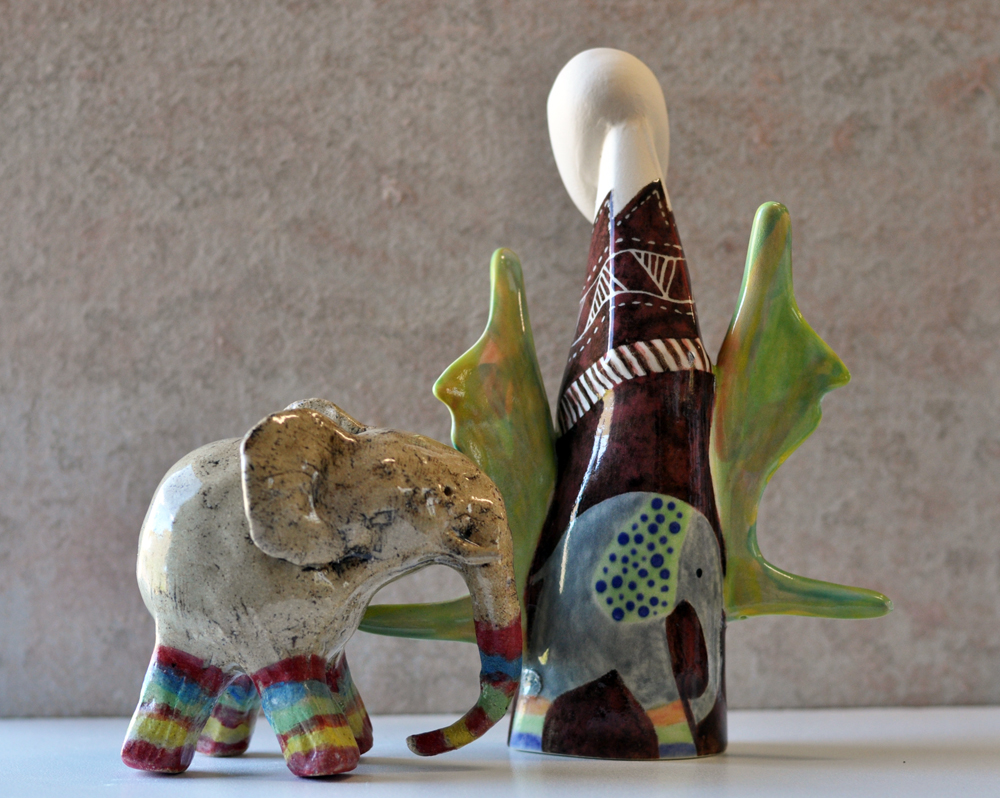 From one small elephant comes so much joy.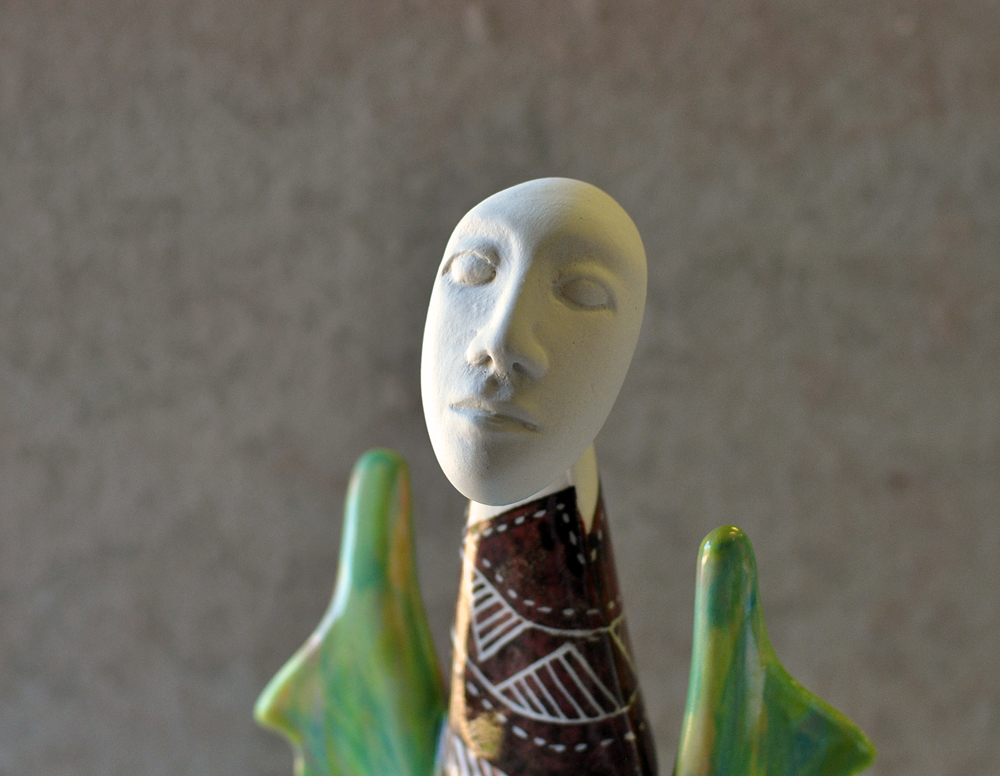 I had more photos and things to share but I think that is quite enough words for one morning.
If you would like to join in with this weeks Sunday Ceramics
JUST
Add your name and URL to the Mr Linky below.
Using the "Sunday Ceramics" title and photo I provided is OPTIONAL it is up to you.
Then PLEASE
Link back here to me.
Also a comment would be nice, so I get two notifications to follow you back to your blog to have a sticky at what you have been up to.