Yesterday I discovered that Joe Hockey had called me a troll and blocked me on twitter.  My dastardly crime that had caused Joe Hockey to call me a Labor Troll was the reposting of one of his own tweets.
I will say that again, my trollish crime was re-posting one of Joe Hockey's own tweets.
Oh dear Joe Hockey, Oh deary dear. Is this what our politicians have come to? Reduced to name calling and public hissy fits because a member of the public questions their own words.
It was your own words I was responding to Joe, not Labors words, not a PR piece or a smear campaign designed to discredit you, but your own words, Joe Hockey.
Let's start at the beginning shall we.
I posted this image onto my frogpondsrock facebook page knowing full well that it would also auto-tweet to my  frogpondsrock twitter account

The caption that goes with the image is,
"Joe Hockey went too far with this tweet. He has since deleted it, but unfortunately for him, it doesn't undo what he said. Kudos to the people who called him on it."
As twitter is a tool for  conversation, naturally a conversation ensued.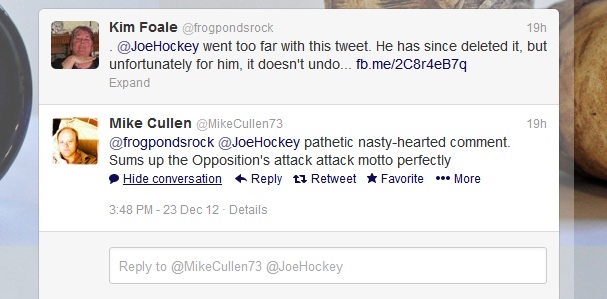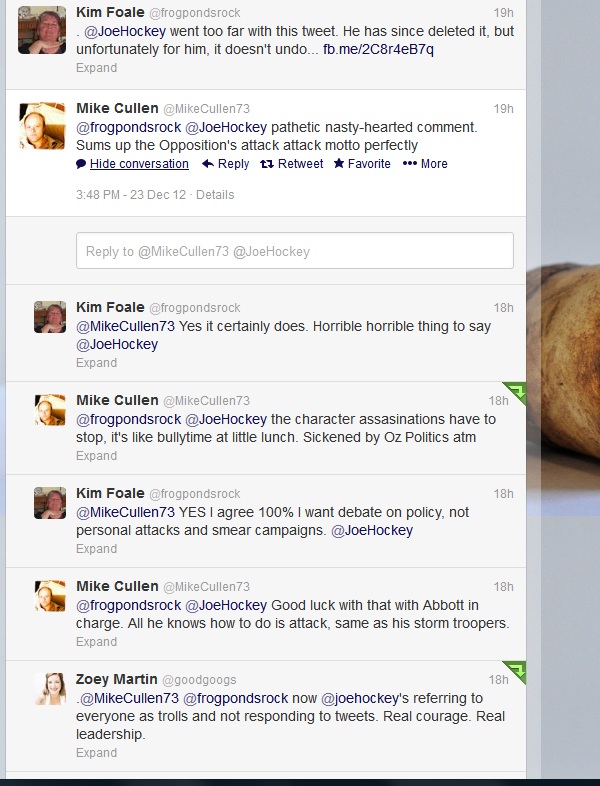 I was prepared to let the matter drop until my friend Zoey told me that Joe Hockey was now referring to everyone as trolls. So Of course I clicked over to Joe's public profile on twitter and read his tweet.
Now I was grumpy.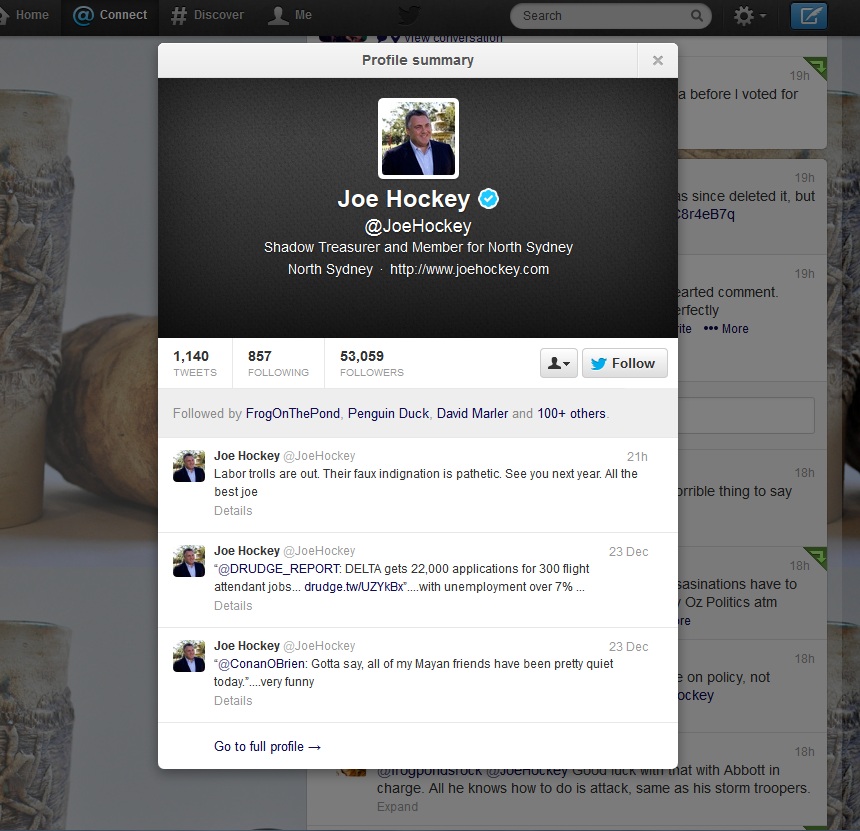 My indignation most certainly was not faux Joe. My indignation is very real and it comes from the fact that I am a real live human being who has lost both her parents and I know first hand how desperately sad my first Christmas without my father was and how terribly sad my Christmases have been without my mother.
That is where my indignation stemmed from, from my humanity and my sympathy for our Prime Minister's loss.
I take great offense at being called a Labor Troll and in my pique I went to retweet Joe's tweet so that I could wail loudly about my trolldom, only to find that he had BLOCKED ME!
My indignation had spiralled from supposedly faux to  extreme in 140 characters or less.
Look Internet, HEAR ME IN MY INDIGNATION, Joe Hockey has BLOCKED ME.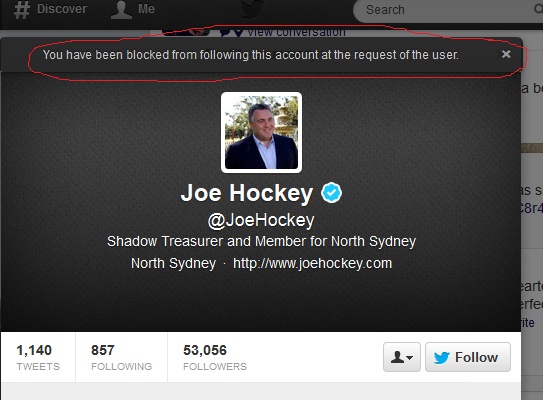 I then became very Hmphy and started a very loud conversation on twitter and facebook about wussy politicians who block normal decent VOTERS.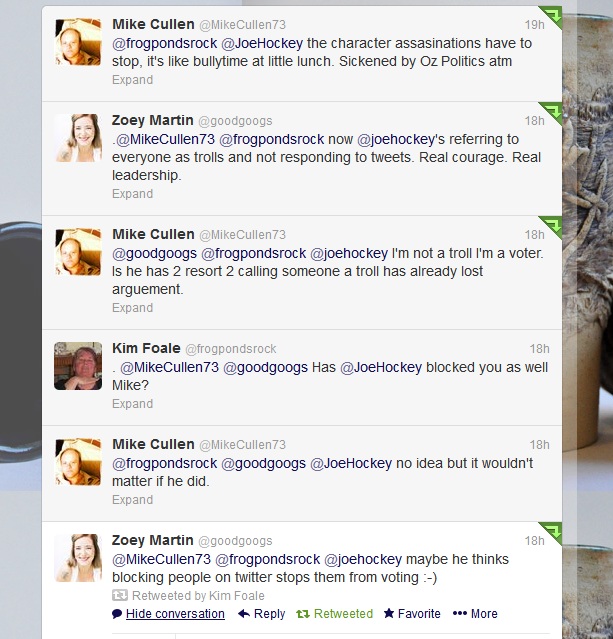 The different tactics and approaches of the LNP politicians towards women online compared to their labor counterparts is a wide gulf that needs to be closed.
The Prime Minister invites female bloggers to morning tea and Christmas drinks and shows herself to be appraochable and human.
Joe Hockey as a highly placed member of the opposition blocks women online and calls them names.
Good work Joe, good work indeed.
{ Comments on this entry are closed }