This blog post is nothing more than a desperate grab for sympathy, there is going to be wailing, whining, cries of WOE and possibly even a bit of begging.
Now that I have fully disclosed at the TOP of the article, all those readers who have been expecting witty words of wisdom have now been warned about the high probability of self obsessed sympathy grabs contained within. I have fully and transparently, *DISCLOSED MY INTENT DEANNA and now I can get right to the heart of the matter knowing that I have not tricked anyone into reading here.
Part One: WAILING.
Six weeks ago my hand decided to instigate industrial action and imposed a strict stop work policy. My head railed against this policy as important deadlines were looming but my hand didn't care, it had declared itself CACTUS FUCTUS and was now in charge of all decisions relating to the work production schedule.
I ignored the stop work edict as my head was full of work that needed to be made and I knew the ideas would vanish and all the work would be lost.
My hand became increasingly militant in it's enforcement of the stop work policy and we came to an impasse on the day when I could not pick up a coffee cup. So I took myself off to the doctor and had X-rays and did all the things you do when you are an adult and bits of your body stop working. I spoke to my doctor briefly on the phone yesterday and he said it wasn't good news. I have severe degenerative arthritis in my wrist and thumb. My finger joints are a also bit iffy and I need to alter my work practices, sadly, my hand is cactus fuctus
Part Two WHINING:
I am a professional mud hardener, I work with my hands. There is a lot of hands on, hard physical work, that can not be avoided and the first step in making any pot is "wedging the clay."
Wedging the clay is very similar to kneading dough and as dough must be kneaded, so clay must be wedged, or the pots wont rise and the bread cracks and I mix my metaphors and everything goes to shit because, CACTUS FUCTUS.
I can't have a proper and sustained moan about my POOR CACTUS FUCTUS hand to my family because pfft what is a sore hand in the scheme of thing when your hips dislocate in bed overnight (The Spouse) your jaw makes an ominous "dislocation pending" clicking sound every time you eat anything (The Son) and your ribs move independently of themselves and your collarbone doesn't like being near your collar (The daughter)
Oh I know they all made appropriate poor Mum sounds and here have some deep heat and oh do you want a pressure bandage Mum.
BUT it isn't the same as the PROPER Sympathy I can get from you, my dear, dear internets.
Part Three BEGGING.
What do you do to ease the pain of arthritis? I am off to the physio to get a wrist brace made. I am currently using a home made job The Spouse suggested, which is a pressure bandage and a neoprene stubby holder and that is working well enough as a temporary measure. I already take fish oil and glucosamine tablets to keep my dodgy knee working properly. Heat packs give some relief as well. BUT I WANT YOUR MAGIC TRICKS. I need your home remedies.
How do you manage your arthritic cactus fuctus bits and pieces internet? How do you keep on working when bits of you go on strike? Did you grieve your previously usable body parts that now are a bit past their used by date? Did you cry a little bit?
And even though this artistically highlighted and sharpened to buggery, Xray shows my cactus fuctus hand in all it skeletal glory, I am forced to admit that I have quite elegant bones. Cactus Fuctus, they may be, but still rather Elegant.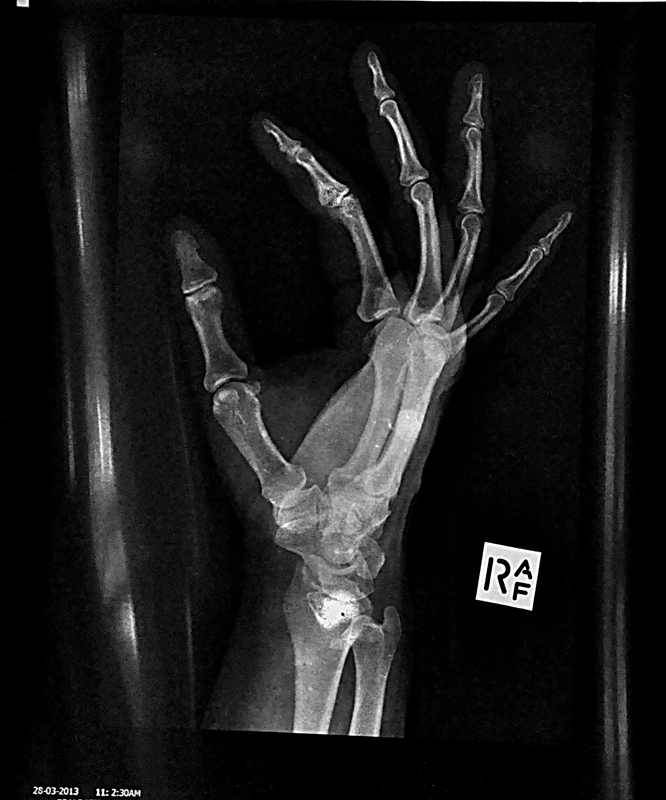 *This blog post was brought to you by the dire need for bucket loads of sympathy.
{ 24 comments }